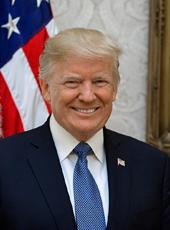 Press Release - Historic U.S. Job Market Continues as African-American Unemployment Rate Hits New Low
Council of Economic Advisers
Today, the Bureau of Labor Statistics (BLS) released its monthly Employment Situation Report, which shows continued employment growth and a low unemployment rate in October. Job gains at this point in the business cycle are particularly noteworthy considering that the United States is in the midst of the longest economic expansion in its history.
BLS's establishment survey shows total nonfarm payroll employment increased by 128,000 jobs last month, far exceeding the median market expectation of 85,000. Including a substantial upward revision of 95,000 total jobs for the months of August and September, and controlling for the estimated 60,000 decrease because of the recently resolved General Motors (GM) strike and the 20,000 decrease from temporary U.S. Census workers finishing their work, this report highlights the creation of over 300,000 new jobs.
Since the President's 2016 election, the economy has added over 6.7 million jobs—more than the combined populations of Wyoming, Vermont, Alaska, North Dakota, South Dakota, Delaware, Rhode Island, and Montana in 2018. Additionally, this total is 4.8 million more jobs than the Congressional Budget Office projected would have been created in its final forecast before the 2016 election.
BLS's separate household survey finds that the U.S. unemployment rate increased slightly from its 50-year low of 3.5 percent in September to 3.6 percent in October, marking the 20th consecutive month at or below 4 percent unemployment. Most notably, the unemployment rate for African Americans reached a new series low of 5.4 percent, falling 2.6 percentage points since President Trump's election.
The labor force participation rate, which includes workers and those looking for work, increased to 63.3 percent in October—0.6 percentage point above the rate in November 2016. The labor force participation rate for prime-age adults (ages 25-54), which largely avoids the demographic effects of the aging population, increased by 0.2 percentage points in October to 82.8 percent—1.4 percentage points above its rate in November 2016. Small changes in labor force participation can have major effects on the economy: Because of this increase, 2.1 million more prime-age adults were in the labor force in October compared to if the participation rate remained at November 2016 levels.
Steady job growth, accompanied by 15 months of 3 percent or higher average year-over-year hourly wage increases, benefits Americans across the country, as 24 States achieved or matched their lowest-ever unemployment rates during the Trump Administration. As of September 2019 (the latest available State unemployment data), 35 States had unemployment rates below 4 percent, compared to 14 States when President Trump was elected.
While today's release shows that manufacturing employment fell by 36,000 during October, this decline is fully explained by the 40-day strike at GM. The Department of Labor's (DOL) monthly strike report showed 46,000 GM workers were on strike during the October payroll survey. Workers on strike do not collect a paycheck, so they do not count as employed. Additionally, the negative effects of the strike reverberated throughout the economy, including lowering employment at GM suppliers, leading to an estimated 60,000 total employment decrease in October. The strike's resolution portends manufacturing employment bouncing back in November, adding to the gains seen over the Trump Administration.
Even with the strike lowering October's manufacturing numbers, nearly 500,000 manufacturing jobs have been created since the 2016 election. This growth is why the National Association of Manufacturers quarterly outlook survey reached its highest recorded confidence level during the Trump Administration. Comparatively, 20,000 manufacturing jobs were lost in the 12 months prior to the 2016 election.
Evidence of a robust job market is also supported by private sector surveys. The Conference Board measures employment optimism as the share of respondents claiming that jobs are plentiful minus those who think they are tough to obtain. Using this measure, employment optimism for October (35.1 percent) was much higher than it was in November 2016 (6.6 percent).
With consistent job gains this far into the longest economic recovery in U.S. history, the October employment data make it clear that the American labor market remains strong. States across the country continue setting record-low unemployment rates, showing how Federal policies that support economic growth benefit local communities. American workers see these benefits as today's labor market offers them opportunities to negotiate raises and advance their careers.
Donald J. Trump, Press Release - Historic U.S. Job Market Continues as African-American Unemployment Rate Hits New Low Online by Gerhard Peters and John T. Woolley, The American Presidency Project https://www.presidency.ucsb.edu/node/335154