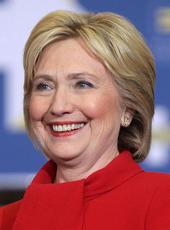 Press Release - Hillary Clinton Is the Only Presidential Candidate Helping Us in Flint
She's shown us what kind of person she is—and what kind of president she'll be.
My constituents have been drinking, washing, and bathing in poisoned water.
Fifty-six percent of Flint residents are African American, and the majority of people in this city live below the poverty line. In March 2014, almost two years before I was elected, officials decided to get our water from the Flint River. But the Flint River eroded our lead pipes, and that lead seeped into our water.
In children, lead poisoning leads directly to learning disorders and developmental delay.
The number of children suffering from lead poisoning has doubled, and 10 people have died from Legionnaire's disease—most likely because of our poisoned water.
People deserve to know how this happened, and officials need to be held accountable.
Only one presidential candidate—Democrat or Republican—has reached out and asked, "What can I do? How can I help?" And that's Hillary Clinton.
Hillary is worried about the kids here. She saw the effects lead poisoning can have on children during her time as a senator from New York. It's ugly. She wants to help.
She rolled up her sleeves and got to work. Hillary sent campaign staff to Flint, and they came back and said, "Here's what I see going on." She talked about the issue on Rachel Maddow's show, calling on the governor to reach out to President Obama and to immediately set up a health monitoring and surveillance system.
And she closed the Democratic debate on Sunday by expressing her outrage, calling national attention to our struggle.
She's been doing her part to keep everything moving forward, so we can get help to the people who need it.
Hillary is the kind of friend you want in the White House. And in fact, she's the exact friend we need in the White House. Because this isn't something that's going to go away. We need a fighter.
We need someone there fighting for the city of Flint, making sure we're getting what we need. Hillary has shown us that's what kind of person she is—and what kind of president she'll be.
She gets results. And that's what we need.
Hillary Clinton, Press Release - Hillary Clinton Is the Only Presidential Candidate Helping Us in Flint Online by Gerhard Peters and John T. Woolley, The American Presidency Project https://www.presidency.ucsb.edu/node/316778