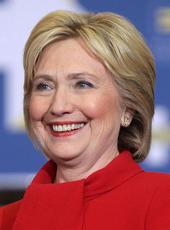 Press Release - Hillary Clinton Meets with Bay Area African-American Ministers and Community Leaders
More than 60 Ministers and Community Leaders Meet to Discuss Urban Policy Issues
On Friday, August, 10, Senator Hillary Clinton stopped by the African American Art and Culture Complex for a meeting with Bay Area African-American ministers and community leaders.
"I thank all the leaders whom I met with for their contributions to our country and their commitment to fighting for civil rights and equality," said Clinton. "As President, I will partner with African-American leaders to ensure that the promise of America is realized."
The afternoon meeting, organized by Reverend Amos Brown of Third Baptist of San Francisco and Pastor Clarence Johnson of Mills Grove Christian Church, was an opportunity for African-American leaders to hear directly from Hillary Clinton on the issues that affect their community.
Hillary Clinton outlined several key initiatives including her pre-K program and discussed the importance of early education that can help put children on the right path to a successful and productive life.
With respect to violence and re-entry, Hillary Clinton discussed her youth opportunity agenda and the importance of education. Clinton discussed the disproportionate number of men of color who are in prison, and how to ensure that they succeed when they are released. She outlined options including providing more vocational programs that train people who are returning to the workforce. The Senator noted that many industries, such as the auto and airline industry, have a shortage of trained workers and it would be wise to create and expand training programs for people who are unemployed so they can fill positions in these industries.
She also noted weaknesses in the Bush Administration, pointing to how they eliminated education programs in prison that would help people find work after their release, and also how the current administration did not do more to get guns off the street.
"Senator Clinton has an excellent concept about how she plans to address issues surrounding crime and education. She described how she has partnered with leaders in New York to create a charter school specifically for African American men and notes that the Allen Cathedral AME Church charter school in Jamaica Queens, New York could be used as a model of how to help educate African American young men. Her mentioning of the school shows that she's aware of outstanding successful examples of education in this country. The way she addressed the need for the federal government to partner with inner cities suggests that she's not just focusing on international issues but that she's concerned with domestic ones - particularly crime and violence in our communities. I want a president who knows how to strike a balance between addressing international and domestic challenges facing this country," said Reverend Dr. Harold R. Mayberry, Senior Pastor of First African Methodist Episcopal Church and Chairperson of Network for Interfaith Action.
Other topics discussed include Clinton's plans to provide universal health care, create good paying jobs, reduce American dependence on foreign oil, tackle violence in this country, and help make our communities stronger and safer.
"Hillary Clinton has answers for the questions on how to revitalize our urban communities. Her approach to handling public safety, youth violence and crime is timely. She is relevant because she will implement a comprehensive healthcare, employment and economic development plan. Because of her experience, she can extend and expand upon both Bill Clinton's and Lyndon Johnson's initiatives," said Paul Cobb, Bay Area community leader and publisher of the Oakland Post.
Throughout her career, Hillary Clinton has worked to protect civil rights and expand opportunities for African Americans. As President, Hillary Clinton will work to increase opportunities for African Americans - by improving our schools and our healthcare system, expanding access to capital, putting home ownership back in reach, cracking down on predatory lenders targeting African American communities, and making a national commitment to support young men of color who have fallen off track. Hillary will continue to champion civil rights and honor the legacy of African American trailblazers.
Hillary Clinton, Press Release - Hillary Clinton Meets with Bay Area African-American Ministers and Community Leaders Online by Gerhard Peters and John T. Woolley, The American Presidency Project https://www.presidency.ucsb.edu/node/297318