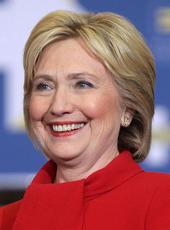 Press Release - Hillary Clinton Is Leading the Primary Race By 204 Pledged Delegates. Here's Why It Matters
There's still a lot of voting left to do—but she's off to a great start.
As of Saturday, March 5, Hillary Clinton leads the pledged delegate count for the Democratic presidential nomination by 204 delegates.
What does that mean?
Whoever earns the majority of delegates will be the Democratic nominee, and Hillary is right on track. Right now, Hillary is leading by a wider delegate margin than President Obama was at any point during the 2008 primary.
What is a delegate, anyway?
Democratic delegates will represent the party at its national convention this summer. When primary voters and caucus-goers go to the polls, they're actually choosing which candidate to pledge delegates to—and the candidate with the majority of delegates at the convention will become the Democratic presidential nominee.
Delegates are awarded based on how much support each candidate receives. There are 4,051 pledged delegates—out of 4,765 total delegates—up for grabs in the state contests, with a specific number awarded in every caucus and primary. In order to clinch the nomination, a candidate needs 2,383 total delegates.
So what's next?
166 delegates are up for grabs Tuesday in Michigan and Mississippi—and another six will be awarded Saturday in the Northern Mariana Islands. Then it's on to "mini-Super Tuesday," when voters head to the polls in Florida, Ohio, North Carolina, Missouri, and Illinois for a combined total of 691 pledged delegates.
The Democratic nominating contest is far from over—and Hillary is ready to work hard and earn to every vote she can in the upcoming contests. But thanks to the hard work of organizers and volunteers across the country, Hillary has gotten off to a great start in the Democratic nominating contest.
Hillary Clinton, Press Release - Hillary Clinton Is Leading the Primary Race By 204 Pledged Delegates. Here's Why It Matters Online by Gerhard Peters and John T. Woolley, The American Presidency Project https://www.presidency.ucsb.edu/node/317144