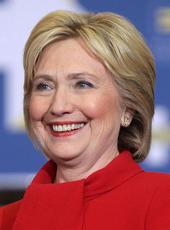 Press Release - Hillary Clinton Empowers Young Women Voters in Celebration of Women's Equality Day
In celebration of Women's Equality Day, Hillary Clinton for President is launching an online effort designed to educate and empower young women voters. "You've Got the Vote. Use It. Make History" will educate voters about the history of the struggle for women's suffrage, provide them with the resources to make their vote count, and inform them about Hillary's career of leadership and record as an advocate for change.
The campaign is asking supporters to send out a holiday e-card in honor of Women's Equality Day, available at www.hillaryclinton.com/useyourvote . The e-card highlights "Women Firsts," including Madeleine Albright, Amelia Earhart, Rosa Parks, Elizabeth Cady Stanton and Susan B. Anthony, among others. The Web site will also feature blog posts from leaders of prominent women's organizations, academics and Members of Congress.
"This Women's Equality Day effort not only commemorates women finally being ensured the right to vote, but also celebrates the women who have broken barriers and shattered stereotypes," Clinton said. "When I meet young women across the country, I am encouraged by their enthusiasm and am reminded that we need to continue the fight to protect and defend women's rights."
Other Web site components include voter registration information, details on the primary and caucus process, and a multimedia section called "Ann's Scrapbook." This special section contains images of newsletters, pamphlets and historic women's suffrage memorabilia from the personal library and collection of Ann Lewis, senior advisor to the campaign.
IN THE STATES:
Here are some of the Women's Equality Day activities happening in the states:
Iowa:
Iowa for Hillary is honoring Women's Equality Day with 19 events for the 19th amendment, and hosting a weekend of celebrations planned throughout the state. Dolores Huerta, a longtime labor and civil rights leader and co-founder of the United Farm Workers union, will be in northwestern Iowa to celebrate at house parties and Iowans for Hillary County Organizational meetings. The first woman to be appointed to the rank of Lieutenant General in the U.S. Armed Services, Claudia Kennedy will be traveling throughout northeastern Iowa, visiting a local house party and a Cedar Rapids Women's Equality Day celebration. Members of the Women's Leadership Council will gather on Saturday morning to attend the Women's Hall of Fame induction ceremony and reception. On Sunday, Iowa Midwest Co-Chair and former Director of the National Violence Against Women Office, Bonnie Campbell and Marti Anderson, a member of the Women's Leadership Council and victims advocate, will be traveling to events in southwest Iowa. State Co-Chair Dr. Andy McGuire will be traveling around southeast Iowa attending Women's Equality Day events.
New Hampshire:
As a part of the New Hampshire for Hillary campaign's third "Walk It to Win It" weekend, the campaign will host special activities throughout the state to commemorate Women's Equality Day. Hundreds of volunteers - including many mother and daughter pairs - will participate in canvasses and phone banks. They will have the opportunity to meet with elected officials at NH for Hillary offices to talk about the campaign and Women's Equality Day. The weekend activities are taking place in Berlin, Claremont, Dover, Keene, Laconia, Lebanon, Manchester, Portsmouth & Salem.
South Carolina:
In South Carolina, Victoria Rowell, actress, advocate, former foster child and now a best-selling author, will travel across the state this weekend campaigning for Hillary. The author of "The Women Who Raised Me," is an icon of daytime television as the feisty Drucilla Winters on CBS's highly-rated daytime series, The Young and the Restless. In honor of Women's Equality day, Rowell will discuss her compelling story and her deep belief in Hillary Clinton as the right choice to be our next President. Events this weekend will be held in Spartanburg, Anderson, Aiken and Columbia.
For information on other states' activities, please contact the press office.
Hillary Clinton, Press Release - Hillary Clinton Empowers Young Women Voters in Celebration of Women's Equality Day Online by Gerhard Peters and John T. Woolley, The American Presidency Project https://www.presidency.ucsb.edu/node/297336