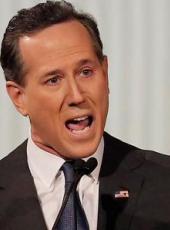 Press Release - Herman Cain - Pro-TARP, Pro-Tax and Now, Pro-Choice
Cain Tells CNN's Piers Morgan That Abortion is a Decision for the Individual, "Whatever They Decide, They Decide."
Verona, PA - Herman Cain has said another outrageous statement out of touch with conservative values, this time on the issue of abortion.
Senator Santorum said: "Herman Cain said that he believes life begins at conception, but that it's up to the individual to decide whether or not to terminate that life. And I find it gravely troubling that Herman believes it's a life, but that he doesn't consider it a life worth fighting for. As the author of the partial birth abortion ban and other pro-life pieces of legislation, this is the exact mentality myself and other true pro-life advocates fought against. In fact, Herman's pro-choice position is similar to those held by John Kerry, Barack Obama and many others on the liberal left. No, Herman, it is not 'whatever they decide,'this is an innocent human life. It is unconscionable for Herman to run for the nomination of the Party that stands in defense of Life while showing disregard for the sanctity of Life. You cannot be both personally against abortion while condoning it - you can't have it both ways. We must defend the defenseless, period."
In an interview last night CNN host Piers Morgan asked Mr. Cain about his stance on abortion:
MORGAN: This is what is comes down to.
CAIN: No, it comes down to it's not the government's role or anybody else's role to make that decision. Secondly, if you look at the statistical incidents, you're not talking about that big a number. So what I'm saying is it ultimately gets down to a choice that that family or that mother has to make. Not me as president, not some politician, not a bureaucrat. It gets down to that family. And whatever they decide, they decide. I shouldn't have to tell them what decision to make for such a sensitive issue."
MORGAN: You might be the president of United States of America. So your views on these things become exponentially massively more important. They become a directive to the nation.
CAIN: No they don't. I can have an opinion on an issue without it being a directive on the nation. The government shouldn't be trying to tell people everything to do, especially when it comes to social decisions that they need to make.
MORGAN: That's a very interesting departure --
CAIN: Yes.
MORGAN: -- from the normal politics.
CAIN: Exactly.
Rick Santorum, Press Release - Herman Cain - Pro-TARP, Pro-Tax and Now, Pro-Choice Online by Gerhard Peters and John T. Woolley, The American Presidency Project https://www.presidency.ucsb.edu/node/298325