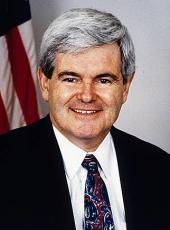 Press Release - Here's What They're Tweeting About Newt's Performance at the NBC News/Politico Debate
Newt won tonight's debate. Here's what people were tweeting about Newt's performance during the debate.
@LinvilleHeather (MN College Republicans): Last quote by @newtgingrich was amazing. Obama IS focusing on class warfare NOT job creation. #ReaganDebate #mncrs
@DLoesch (Radio Host & co-founder of St. Louis Tea Party): THANK YOU NEWT. "We are all for defeating Obama." #reagandebate
@IngrahamAngle (Laura Ingraham): Gingrich the best so far. Total FACE on the media!
@BillHemmer: Gingrich recognizes The Reagan Rule and receives biggest applause of evening at the 28 minute mark. #reagandebate
@BillHemmer: Gingrich strong response on energy and harvesting Alaska. Crowd suddenly wakes up again. #reagandebate
@TeriChristoph (Co-Founder, Smart Girl Politics): The ladies on the #SGP chat admire Newt for being a team player. #reagandebate
@TeriChristoph: Newt and school choice is a big winner on #SGP chat. #reagandebate
@EditMeDavid (Editor, Daily Caller): Newt goes Presidential by playing as a team. Classy. Reaganesque.
@JasonBWhitman (Policy Chairman, YRNF): I am going to say now that when it comes to debating @newtgingrich basically owns. #ReaganDebate
@JasonBWhitman: I always enjoy watching @newtgingrich in a debate. He has a vast reservoir of knowledge and that's a fact. #ReaganDebate
@alex_wags (Reporter, Huffington Post): Big applause for Gingrich calling for English to be official language of the US.
@kesgardner: Newt has perfomed VERY well tonight. Refuses to equate raising revenues with raising taxes. Talking about drilling more oil in Alaska.
@CADelargy (CBS News): Audience seems to really like Newt Gingrich... don't think there's anything he's said tonight that didn't get some applause #reagandebate
@JedediahBila (author, columnist): Gingrich offers specific solutions. That is his strength: specifics. Always is.
@wkxlnhchris (NH Reporter): Great answer there from @newtgingrich , one of the top applause lines of the night on cutting spending
@NoelSheppard (Associate Editor, NewsBusters): I know this will anger @NewtGingrich haters but he comes across as the most informed & knowledgeable candidate by far.
@kerpen (Phil Kerpen, VP Americans for Prosperity): Newt won the debate.
Newt Gingrich, Press Release - Here's What They're Tweeting About Newt's Performance at the NBC News/Politico Debate Online by Gerhard Peters and John T. Woolley, The American Presidency Project https://www.presidency.ucsb.edu/node/297678