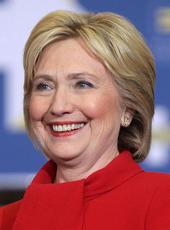 Press Release - Here's What 54 Leading Progressives Think About Hillary Clinton
"She's a progressive who gets things done."
Quick: Which 2016 presidential candidate:
called for tighter regulations on Wall Street before the financial crisis?

has unapologetically led the fight for universal health care in America since the '90s?

spoke out about criminal justice reform and ending the era of mass incarceration, starting with the first speech of their campaign?

put forward a plan to close corporate loopholes that let companies ship jobs overseas?

called for an end to the Hyde Amendment (which makes it nearly impossible for low-income women to exercise their full reproductive rights)?

has stood up to insurance companies, the pharmaceutical industry, the gun lobby, and Donald Trump?

If you guessed Hillary Clinton, you're right.
As first lady of Arkansas, first lady of the United States, a U.S. senator, secretary of state, and a presidential candidate, Hillary has not only supported progressive issues like civil rights, climate change, comprehensive immigration reform, reproductive rights, criminal justice reform, economic justice, and more—she's also put them front and center in the political debate.
Here's why these 54 leading progressives are supporting Hillary.
1. Uzo Aduba, actress
"This is someone whom I feel goes home and thinks about us. I feel like she thinks and considers what our challenges are. She cares about the things that are important to us."
2. Jim Obergefell, plaintiff in the historic Supreme Court marriage equality case
"Too many people think that the fight for LGBT rights ended with marriage equality—but that's not true. ... That's why I endorsed Hillary Clinton. Not only does she understand how important the continued fight for equality is, but she has the experience, the knowledge, and the drive to get things done—and to make life safer and more equal for LGBT Americans."
"I choose Hillary because I know her and I trust her."
4. Howard Dean, former six-term governor of Vermont
"Hillary Clinton is by far the most qualified person in the United States to serve as president. ... She has enormous capacity to analyze and solve problems. She has a work ethic that drives her to persist until the job is done and done right. And she has a record in the Senate of successfully working with both sides of our very combative political spectrum in order to accomplish goals that improve the lives of ordinary Americans."
"When women get ahead, we all get ahead. It's like what she said in Beijing: Women's rights are human rights. And so it's not like women are in some little silo. We are part of the human family. And the progress of any part is progress for the whole."
" ... women need more than a vote or a supportive statement; we need a fighter in the White House ... "
6. Cecile Richards, president of Planned Parenthood
"More than ever, women need more than a vote or a supportive statement; we need a fighter in the White House who will put women and families at the front of the agenda. We face unprecedented attacks from candidates who seek to create a country where our daughters have fewer rights than we do now. As a senator, Hillary Clinton introduced eight separate bills to advance women's reproductive rights—eight more than anyone running. As secretary of state, she helped advance the status of women and girls around the world and confronted human rights abuses. And as a candidate she has put issues important to women on the front burner—like equal pay, overturning the Hyde Amendment, and ensuring patients can continue to come to Planned Parenthood. She has stood up for access to safe and legal abortion and will stand up to every attempt to roll back the rights generations have fought to earn. That's the kind of champion women deserve."
7. Dan Gross, president of the Brady Campaign
"Hillary Clinton is the only candidate who, as a member of Congress and national leader, has consistently put the safety of the American public ahead of the interests of the corporate gun lobby."
"Recently, the debate over immigration, an issue that's very close to my heart, has been poisoned by some of the other people running. I am Haitian American. ... Watching the immigrant community be torn down over these past few months has been incredibly hurtful. But Hillary has been there every step of the way, making sure that everyone in this country is shown the respect they are owed."
" We should only support leaders that fight for commonsense gun reforms. Clinton passes that test."
9. Sybrina Fulton, mother of Trayvon Martin
"In spending some time with her in person, I also found a mother and a grandmother who truly heard me and understood the depth of my loss. She knew all the statistics. But like so many, I've long since grown numb to the numbers. So instead, we talked about Trayvon and all the other families who have lost a loved one to gun violence. ... I agree with the president: We should only support leaders that fight for commonsense gun reforms. Clinton passes that test. Just as importantly, Clinton also wants to address larger, systemic problems."
10. Jackie Ryan, first openly transgender elected official in Massachusetts
"I endorsed Hillary Clinton because her experience and her vision for the country speak to me. She's done so much for so many people: whether it's her work for the Children's Defense Fund, securing benefits for those affected by 9/11, or promoting human rights as secretary of state, she's always fighting. America needs a fighter."
11. Stephanie Schriock, president of EMILY's List
"Hillary Clinton is a lifelong champion for women and families and the most qualified candidate to be president. ... No one will work harder than Hillary. ... As president, Hillary will create more opportunities than ever for women and girls and for all hardworking Americans across the country, just as she has done throughout her exceptional career."
12. Barbra Streisand, actress
"I want Hillary Clinton to be president. We need a woman president, we need compassion, we need to have a person who comes from the heart and brain. And experience, experience counts."
" She has the experience and right judgment to deliver results ..."
13. Eric Holder, former attorney general
"Our next president can't shy away from building on the progress of President Obama, which is why Hillary Clinton is the candidate that we need in the White House. She has the experience and right judgment to deliver results for families across the country. I've seen her deal with the issues that will confront the next president firsthand, and she has bold plans to address police brutality, fight for commonsense reforms to our gun laws, get incomes rising, and make college affordable. If we have a Republican president, they would tear down our progress on civil rights, health care, and curbing gun violence. It can't and won't happen under Hillary, who has spent her life taking on the toughest fights."
14. Ilyse Hogue, president of NARAL
" ... we need more than an ally. We need a champion, and Hillary Clinton is that champion—for all of us. ... Secretary Clinton understands the connection between economic advancement and gender equality better than anyone else running."
15. John Lewis, Congressman and civil rights icon
'I know her heart. We need her leadership, not just here in America, but all over the world. She is tireless in her advocacy for those who have been left out and left behind. She is ready to be president on day one. Hillary Clinton has my wholehearted endorsement, and I plan to work and campaign for her to see that she is elected the next president of the United States."
16. Gene Karpinski, president of the League of Conservation Voters
"When it comes to fighting the climate crisis, the stakes couldn't be higher—and we are confident that Hillary Clinton is the right person for the job. With her proven history of leadership, strong environmental record, and a campaign committed to building a clean energy future, Hillary Clinton is without a doubt the most effective leader to stand up to Big Polluters and push forward an aggressive plan to tackle climate change and get it done."
"My home state is at the forefront of medical research and innovation. I know Hillary will fight hard for the critical investments our nation needs to find the treatments and cures that will help people stay healthy and ultimately, save lives."
" She will do big and important things."
18. David Plouffe, 2008 campaign manager for Barack Obama
"She's the right person to protect President Obama's legacy on health care and so much else. The woman who helped create the CHIP program, which covers 8 million kids, won't stop until affordable health care is recognized as a basic human right in America. She'll enhance Social Security and strengthen Medicare. She'll continue President Obama's reforms to make sure Wall Street works for Main Street, not the other way around. She'll make sure America continues to lead the world in the 21st century. ... And, like President Obama before her, she will make history. ... Hillary Clinton will not just make an outstanding and worthy successor to President Obama. She will be a president we should all look back on and be proud we did whatever we could to make it so. She will do big and important things."
19. Steve Benjamin, mayor of Columbia, South Carolina, and president of the African American Mayors Council
"Whether it's her vision for economic fairness and shared prosperity or her steadfast commitment to comprehensive criminal justice reform—it's clear that Hillary Clinton is the best candidate to be our next president."
20. Gabby Giffords, former congresswoman and gun violence prevention advocate
"Talk is cheap. ... Only one candidate for president has the determination and toughness to stand up to the corporate gun lobby—and the record to prove it. That candidate is Hillary Clinton."
" I believe in her now."
21. America Ferrera, actress
"I believed in her then, I believe in her now."
"I can't imagine anyone who has run for president in my lifetime that has stronger qualifications to be President than Hillary Rodham Clinton. The majority of this country is going to want substance and stability over anger."
23. Ricky Martin, performer
"Hillary has been a fighter for us for years, from supporting equal workplace legislation to working for equal rights for trans Americans. ... Growing up the U.S. territory of Puerto Rico, I never dreamed that I would one day be a proud, out gay father of two beautiful little boys, in a country where marriage equality was the law of the land. Now, that's just an average day—that's what real progress is. Hillary knows this, and she's not going to stop fighting."
24. Claudia Kennedy, retired lieutenant general
"With her experience and foresight, Hillary Clinton is uniquely qualified to defeat ISIS as our commander in chief. She's developed a comprehensive plan to address not only ISIS, but also the broader radical Jihadist movement that includes al Qaeda."
25. Dolores Huerta, activist
"Hillary has been a lifelong advocate for children and families. She stands up for workers and immigrants."
26. Star Jones, lawyer and television personality
"For me it's a very easy choice. She is at the forefront of issues that are important to me and other women of color, including pay equity, health care and reproductive rights, increasing the minimum wage, paid family leave, among other things."
" We cannot let hate and discrimination determine the outcome of this election. "
27. Salma Hayek, actress
"Es incre?ble that the leading candidate of the Republican Party has been irresponsibly campaigning, using unfounded and insulting accusations against the Latino community to win votes. We cannot let hate and discrimination determine the outcome of this election. We owe it to the hardworking Latinos that came before us, to ourselves, and to our children, to show the people who unfairly label us as criminals and speak down to us that our community is strong, meaningful, and incredibly powerful. We are one of the largest, youngest, and fastest-growing groups in the United States of America. We deserve a candidate who respects the contributions we have made to this country and understands how important it is that our community continues to thrive, all while treating us con dignidad y respeto."
"We live in a country where women still battle daily for our basic rights. Whether it's wage equality, access to birth control, or the right to press charges against our rapists with a measure of support and dignity, women are having to run twice as fast as their male counterparts just to stay in one place. So while Hillary Clinton's anatomy is not the reason I'm voting for her, I believe that nothing will send a stronger message to America and the world at large than electing a competent, experienced, and brilliant woman to the highest office in the land."
29. Kathleen Turner, actress and chair of Planned Parenthood's Board of Advocates
"Planned Parenthood has issued its first-ever primary endorsement of Hillary because she's been fighting for women and families her entire life. In Arkansas, she launched the first rape crisis hotline in the state. In the Senate, she fought tirelessly for reproductive rights, access to birth control, and sex education. As secretary of state, women's health and women's rights were the centerpiece of her agenda. All that experience means that Hillary has the skills and the scars that no one else can match. She is the strongest, most qualified candidate for the office of president that I have ever encountered. But in an election, she'll only be as powerful as those who stand with her."
" She is a fighter; she's fighting for you."
30. Tom Perez
"I'm a proud, progressive Democrat. ... She is a fighter; she's fighting for you. She's smart enough to get elected, smart enough and tough enough to govern effectively. And her North Star is the middle class, her North Star is working families, her North Star are those kitchen-table issues that keep people up across the country every night, fighting for good jobs, fighting for fair wages, fighting to make sure that women have an opportunity to succeed, fighting to make sure that everybody who works hard and plays by the rules can succeed. ... Hillary Clinton is a progressive who gets things done."
31. Mara Keisling
"I'm so pleased that Hillary Clinton has outlined an ambitious and necessary LGBT agenda that would ensure transgender people are supported and protected in America. This year the epidemic of violence faced by transgender people has drastically worsened?particularly for transgender woman of color. Any person who wants to be president should be talking about such an important issue and putting forth bold proposals to secure full federal equality for all LGBT people, much like Hillary has done so comprehensively and thoughtfully today.
32. Roberta Kaplan, GMHC co-chair and counsel for Edie Windsor
"Hillary Clinton has proven once again that she really 'gets it.' From legal rights, to trans rights, to ending the HIV/AIDS epidemic, her plan comprehensively and creatively addresses every major issue facing the LGBTQ communities. The very fact that a leading candidate for president has issued this type of proposal is itself historic and a testament to how far we have come, as well as how much farther we still need to go."
" I don't think anybody is better prepared to be president than she is."
33. Madeleine Albright, former secretary of state
'There are not a lot of people that have the brains that can deal with both domestic and foreign policy, and she can do that. I don't think anybody is better prepared to be president than she is."
34. Kasim Reed, mayor of Atlanta
"Hillary Clinton has a heart for service and has spent her entire career working to expand opportunities for all Americans. As a champion for women's rights, thoughtful diplomacy, criminal justice reform, commonsense immigration policies and a clean energy economy, she has proven that she is the most capable candidate to lead our country. The City of Atlanta needs a partner like Hillary Clinton in the White House to continue supporting investments in infrastructure, transportation solutions, and expanding economic opportunities for working families."
35. Olivia Wilde, actress
"The fact that she feels the plight of women and girls as the most important issue of the 21st century is a huge reason why I'm supporting her. ... I'm very excited to have not only a female candidate, but Hillary herself who has spoken so eloquently and passionately about the rights of women and girls around the world."
36. Rini Sampath, University of Southern California student body president
"There's a lot at stake in this year's election: college affordability, women's reproductive rights, gun violence prevention, LGBT equality. The only person I can imagine protecting America's future and putting us on a path to progress is Hillary Clinton. I know she is the right candidate for us. I know she's the right candidate for a young person like me. I know she's the right candidate for Asian Americans like us, and immigrants coming from near and far."
37. Hilda Solis, congresswoman
"Her commitment to promoting policies to develop alternative energy technologies and fighting global warming are only two of the many issues in which Hillary has shown her ability to lead. Senator Clinton also has a long record of working on issues that are important to women and to Latino families, such as education, healthcare and economic empowerment. I look forward to working to help elect Hillary the next president of the United States."
" Hillary will be a tremendous partner that delivers results. "
38. Joe Riley, mayor of Charleston
"Our next president must rise to the challenges facing our cities and our country, and Hillary will be a tremendous partner that delivers results. Hillary is the president that our nation's mayors need to build and expand the progress of President Obama."
39. Karen Weaver, mayor of Flint, Michigan
"She has actually been the only, the only candidate, whether we're talking Democratic or Republican, to reach out and talk with us about, ?What can I do? What kind of help do you need?"
40. Julian Castro
"Having watched and respected for years now Secretary Clinton, I know that she appeals to Americans of all backgrounds and colors, different perspectives and walks of life. ... The difference between [Hillary] and the Republicans is that she respects the Latino community."
41. Wendy Davis, former senator
"What those of us know who've been around the Texas scene for a long time is that Hillary and Bill Clinton cut their teeth organizing communities in South Texas and creating the kinds of relationships that show they understand the real needs of people, not only in this state, but across these United States."
42. Abby Wambach, soccer player
"I think all candidates have such valuable things that they're going after and that they want to change about this country. But I think Hillary lines up with my personal value system. ... I want to make sure whoever is in the White House stands for the things that I stand for."
"Hillary Clinton has fought her entire life to create opportunity and prosperity for American families, small businesses, and individuals. Our country needs Hillary's tenacious leadership now more than ever."
" When asked why I, a longtime progressive activist who has worked closely with Bernie Sanders in the Congress, am so strongly supporting Hillary, my answer is simple."
44. Jan Schakowsky, congresswoman
"When asked why I, a longtime progressive activist who has worked closely with Bernie Sanders in the Congress, am so strongly supporting Hillary, my answer is simple: I really, really want a pro-woman woman to be the most powerful person in the world."
45. Luis Guti?rrez, congressman
"Hillary is with the Latino community, and I am with her. She will do what is best for Latinos and all Americans. Hillary is poised to propel the country forward, and I'm proud to be with her."
"I want people to remember that Hillary was a U.S. senator from New York when they were hit hard by those planes crashing into the World Trade Center. And I still get chills thinking about Hillary. She went and stood on the rubble after 9/11 with a mask on. And she knew at that moment what the first responders were facing, health-wise. And she fought and fought to make sure we never forgot about those first responders. And I'll never forget that."
47. Randi Weingarten, AFT president
"In vision, in experience, and in leadership, Hillary Clinton is the champion working families need in the White House."
"Ladies! There are so many incredible opportunities for us that are possible: equal pay, paid leave ... and your choice to have a family when and if it's right for you! These are just some of the reasons I am standing with her and will continue to do so. [This] election is one of the most important ones in decades, and the choices we make will have a profound impact on women for years to come."
49. Mary Kay Henry, president of SEIU
"Hillary Clinton has proven she will fight, deliver, and win for working families. SEIU members and working families across America are part of a growing movement to build a better future for their families, and Hillary Clinton will support and stand with them. This movement for economic, racial, immigrant and social justice is poised to turn out to vote in November with their families and communities and keep pushing elected officials to deliver once in office."
50. Carol Browner, chair of the League of Conservation Voters
"With a history of leadership on the international stage and a commitment to protecting public health, Hillary Clinton is the leader we need to meet the climate crisis head-on."
51. Lily Eskelsen Garcia, president of the NEA
"Clinton is a strong leader who will do what is best for America's students. For more than four decades, Clinton has fought to make sure all children have a fair opportunity to succeed, regardless of their ZIP code. ... she understands the road to a stronger U.S. economy starts in America's public schools."
" And when she goes into the Oval Office, she will bring our hopes and our dreams with her. "
52. Barbara Mikulski, senator
"We love Hillary, but why do we love Hillary? Well first of all, we know her. But most of all, she knows us. She knows our hopes and dreams, the needs and the people. She's been criss-crossing the country—having meetings, roundtables, and listening and listening and listening. She know that all bright leaders have to listen and learn from the people. And when she goes into the Oval Office, she will bring our hopes and our dreams with her. Hillary will be quite a fighter. She is already quite a fighter. We know her as a champion for the underdog. We know her as the champion for the little guy—and little gal."
53. Chad Griffin, Human Rights Campaign
"We've heard the leading Republican presidential candidates repeatedly threaten to block our progress, and to revoke, repeal, and overturn the gains we've made during President Obama's two terms. While they fight to take us backwards, Hillary Clinton is fighting to advance LGBT equality across our nation and throughout the world. We are proud to endorse Hillary Clinton for president, and believe that she is the champion we can count on in November—and every day she occupies the Oval Office."
"I have seen Hillary fight from the first time I met her when we were on a panel together in Detroit. She was there talking about children and child abuse on behalf of the Children's Defense Fund. I was in awe. I said, ?Who is this woman?' Because she was so passionate and so articulate. I saw that same fight again when we came into the Senate together after the 2000 election. Whether it was equal pay, whether it was fighting to close loopholes to bring jobs home, whether it was lowering the cost of college, mental health, Hillary is someone you can count on to be there for you."
Hillary Clinton, Press Release - Here's What 54 Leading Progressives Think About Hillary Clinton Online by Gerhard Peters and John T. Woolley, The American Presidency Project https://www.presidency.ucsb.edu/node/317464