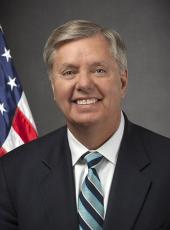 Press Release - Greenville News: Graham Sounds Bellicose Note in Foreign Policy Speech
Graham sounds bellicose note in foreign policy speech

By Mary Troyan

July 8, 2015
WASHINGTON - Sen. Lindsey Graham said Wednesday that, if elected president, he would deploy 16,500 more American troops to Iraq and Syria, retain the 9,800 already in Afghanistan, and consider adding as many more as required to defeat terrorists or prevent a nuclear catastrophe.
The South Carolina Republican, hoping to stand out among the crowded field of GOP presidential candidates, delivered a blistering foreign policy speech to the Atlantic Council in Washington that added detail — along with a distinct sense of alarm and urgency — to his previously stated policy positions.
Graham also said he would attack Iran's infrastructure, navy and air force to keep the country from acquiring a nuclear weapon.
"It's not because I like war or want war," Graham said. "It's because I want to defend a nation."
Even before Wednesday's speech, Graham was identified as the most hawkish of the 14 Republicans who have officially entered the 2016 presidential race. On Wednesday, he dismissed critics who call him a war-monger, and told voters who are tired of war to vote for someone else.
Radical Islam, he said, is a "roaring hot fire" and "my goal is to make it an ember, and that is going to take a generational commitment." Republican candidates who oppose sending more troops to Iraq or making open-ended commitments to a military presence in the Middle East are showing weakness, he said.
...
Lindsey Graham, Press Release - Greenville News: Graham Sounds Bellicose Note in Foreign Policy Speech Online by Gerhard Peters and John T. Woolley, The American Presidency Project https://www.presidency.ucsb.edu/node/312292