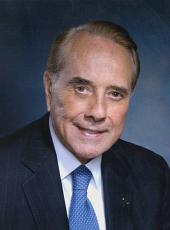 Press Release - Gramm National Finance Chairman Endorses Dole
Former Congressman Loeffler Will Join Dole Finance Committee
The Honorable Tom Loeffler, National Finance Chairman for the Phil Gramm for President campaign, today endorsed Senator Bob Dole's Presidential candidacy. Mr. Loeffler, a former Texas Congressman, has joined the Dole campaign as a senior member of its National Finance Committee.
"To defeat Bill Clinton, we need a candidate who can unite social and economic Conservatives by promoting all of the Conservative agenda, not just part of it", said Loeffler. "Only two candidates -- Phil Gramm and Bob Dole -- have demonstrated strong leadership in their commitment both to family values and to economic freedom including free trade. Phil Gramm is a close friend, but with him out of the race, Bob Dole now has my 100% support."
Loeffler added, "Bob Dole has the experience and vision to be an outstanding President. I am looking forward to working with the Dole team and hope that my friends and colleagues from the Gramm campaign will join me. Senator Dole is the only candidate who can unite the Republican Party and lead us to victory in November and deliver the Conservative change that America wants and needs."
"Tom Loeffler is a knowledgeable, effective leader, and he will be an extremely valuable asset to our campaign", said Dole Campaign Manager Scott Reed. "He shares our mission of reining in the runaway power of big government and reconnecting Washington with the common- sense values of the American people."
Congressman Loeffler has a proven track record as a top political fundraiser, and as Finance Chairman played a major role in Senator Gramm's successful fundraising efforts. In 1988 he was Texas Chairman for Bush-Quayle, and was Finance Co-Chairman of Governor George W. Bush, Jr.'s, 1994 Texas Gubernatorial race. He now becomes a Deputy Chairman of the Dole for President National Finance Committee.
Robert Dole, Press Release - Gramm National Finance Chairman Endorses Dole Online by Gerhard Peters and John T. Woolley, The American Presidency Project https://www.presidency.ucsb.edu/node/315484