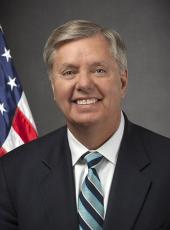 Press Release - Graham To MSNBC's Thomas Roberts: 'I'm The One Guy That Has A Plan To Destroy ISIL'
Graham: "I Think I'm The One Guy That Has A Plan That Can Destroy ISIL."
"I've Been There 35 Times In The Last Decade. I Know Everyone In The Region. I'm Ready To Lead."
(MSNBC LIVE with Thomas Roberts, "Sen. Graham on ISIS, allies and Obama," MSNBC, 11/19/15)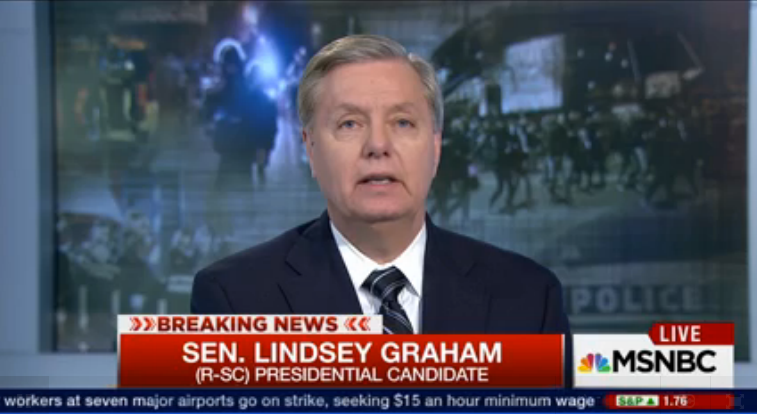 "I've been talking about this for two years... The only way you can protect America from another 9/11 is to destroy the caliphate. Go in on the ground as part of a regional army. We can't outsource this."
GRAHAM ON HIS INTRODUCING AN AUTHORIZATION FOR USE OF MILITARY FORCE AGAINST ISIL:
"I Think We're At War. I Think ISIL Is A Direct Threat To The Homeland"
"The Commander-in-Chief is the person to lead us in a time of war. I think we're at war. I think ISIL is a direct threat to the homeland... ISIL is every bit the threat of Al Qaeda. I would like to do for President Obama and future presidents what we did after 9/11: create an infrastructure so that the President — the Commander-in-Chief — can do what's necessary to destroy ISIL. Because we're at war with them, and this authorization is much needed."
ON LEAVING ASSAD IN POWER:
"It Would Be A Recruiting Opportunity For ISIL To Have The Iranian's Puppet, Assad, In Power"
"It's impossible for the region to repair itself if Assad's in power. The Syrians will not accept him as their leader. President Obama's right that Assad's regime is tainted in the eyes of the Syrian people. It would be a recruiting opportunity for ISIL to have the Iranian's puppet, Assad, in power, and the Arabs would not accept turning over Damascus to the Iranians because Assad's a puppet. Having said that, ISIL is the number one priority for me. Let's get an international force...It's important that Egypt, Saudi Arabia and other actors lead the engagement here, and we'll be a supporting role."
"Most People In The Region Do Not Buy What ISIL Is Selling. We Have To Destroy The Caliphate, But We Do Have To Hold And Build, Which Means Helping People In The Region To Have A Hopeful Life Versus A Glorious Death."
Lindsey Graham, Press Release - Graham To MSNBC's Thomas Roberts: 'I'm The One Guy That Has A Plan To Destroy ISIL' Online by Gerhard Peters and John T. Woolley, The American Presidency Project https://www.presidency.ucsb.edu/node/325753