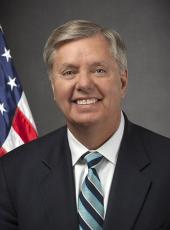 Press Release - Graham Joins Fox News And Fox Business To Discuss The Latest On San Bernardino And The #GrahamPlan to Defeat Radical Islam
Graham: "If I Were President, [ISIL Would] Be Small, Poor And On The Run."
(The Intelligence Report, "Lindsey Graham: Worried over ISIS using Visa system," FOX Business, 12/4/15)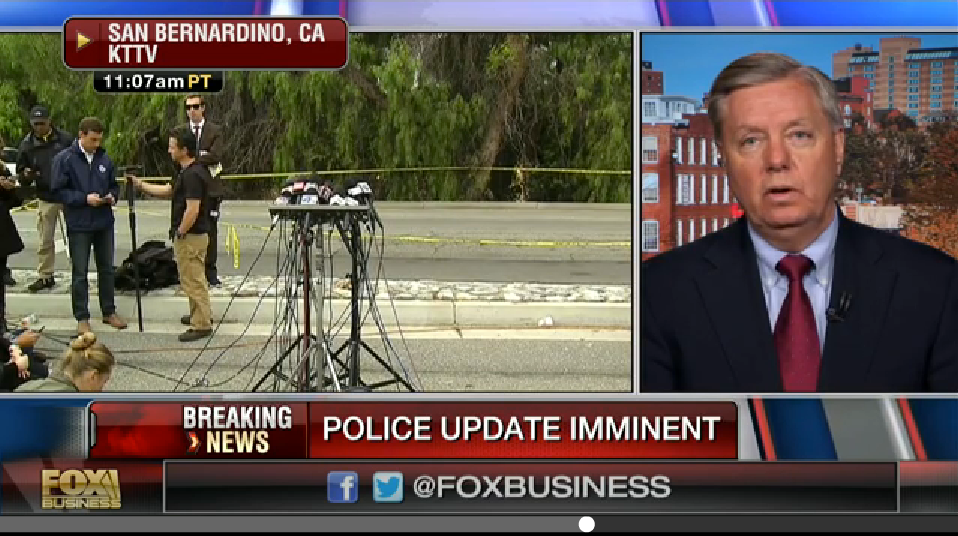 "Here's the problem: the enemy uses the same mechanisms as everybody else... They tap into the Internet; they tap into email systems and telephone systems. That's the problem of this war... it is a different kind of war. There's no capital to conquer, no air force to shoot down, no navy to sink, it's a terrorist ideology."
"They're Large, They're Rich, And They're Entrenched. If I Were President, They Would Be Small, Poor, And On The Run."
"Let's go on the offense. Let's get a regional army and go into Syria with American help. 90% the region, 10% U.S. western forces, and destroy the caliphate... and destroy ISIL. Because, this whole episode here is what happens when a terrorist organization is allowed to win and hold land. They're large, they're rich, and they're entrenched. If I were president, they would be small, poor, and on the run."
"We're At War And I Want To Approach This As A Wartime Problem Not A Criminal Enterprise."
"Here's what I'm suggesting: that the government, through a court order, be allowed to break these encrypted systems. We're at war. Can you imagine in WWII allowing the enemy to have access to our country like this. The problem is we don't treat America as part of the battlefield. It should be part of the battlefield consistent with the constitution. We're at war and I want to approach this as a wartime problem not a criminal enterprise. These people are trying to kill us."
"I'm Just Dumbfounded That You're Being Able To Go Through This Apartment So Early After The Attack."
"It's the most bizarre thing I've ever seen and I've been a prosecutor, defense attorney, in the military and the private sector most of my adult life, before I got in politics. I'm just dumbfounded that you're being able to go through this apartment so early after the attack."
"Radical Islam Is Running Wild And Our President Is Asleep At The Switch."
(Real Story with Gretchen Carlson, "Sen. Graham: Calif. rampage should be a 'wake-up call,'" FOX News, 12/4/15)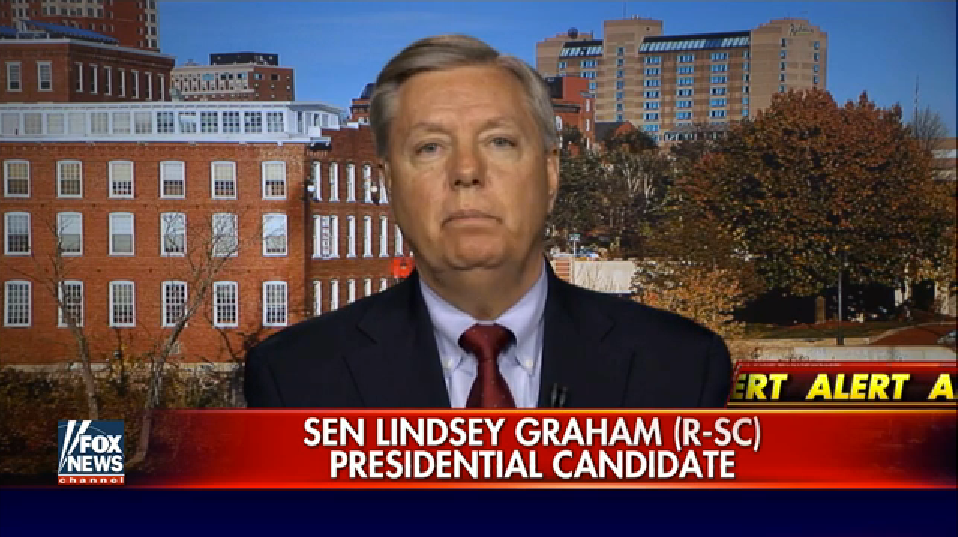 "We Have No Strategy That Will Destroy ISIL In Syria."
"All I can tell you is President Obama's policies regarding destroying ISIL in Iraq and Syria are not going to work. I just got back Monday from my 36th trip to the region. We have no strategy that will destroy ISIL in Syria."
"Obama Is Trying To Pass This On To The Next President And We're Going To Get Hit, If We Don't Change Our Strategy Soon."
"The Obama Administration can't be trusted on terror. They lied to you about Benghazi, they oversell their successes and undersell the threats...There is no strategy in Syria to destroy ISIL, Obama is trying to pass this on to the next president and we're going to get hit, if we don't change our strategy soon."
Lindsey Graham, Press Release - Graham Joins Fox News And Fox Business To Discuss The Latest On San Bernardino And The #GrahamPlan to Defeat Radical Islam Online by Gerhard Peters and John T. Woolley, The American Presidency Project https://www.presidency.ucsb.edu/node/325754