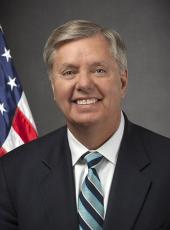 Press Release - Graham On CNN New Day: "You Know How You Make America Great Again? Tell Donald Trump To Go To Hell"

Graham: "Trump's A Race-Baiting, Xenophobic, Religious Bigot. He Doesn't Represent My Party. He Doesn't Represent The Values That The Men And Women Who Wear The Uniform Are Fighting For."

(New Day, "Graham: Trump is a 'race-baiting, xenophobic' bigot," CNN, 12/8/15)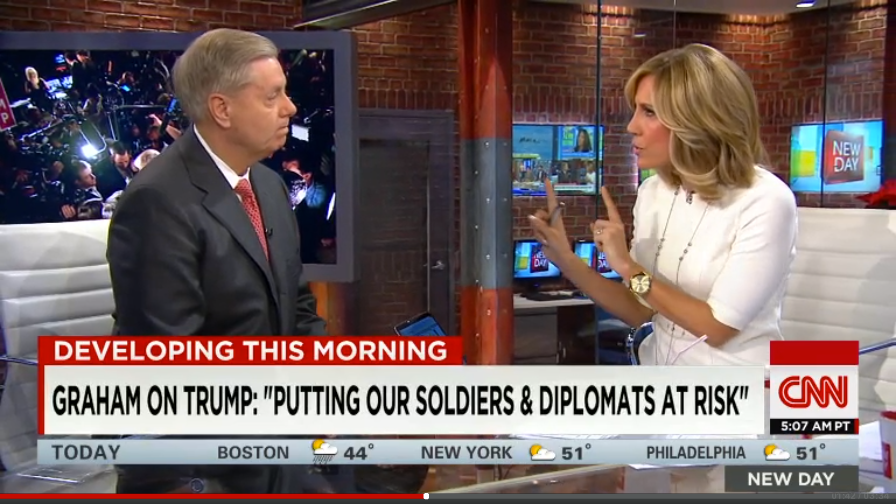 Camerota: "What Is Your Reaction To Hearing What Donald Trump Says?"
Graham: "Disgusted"
"He's Putting Our Soldiers And Diplomats At Risk, He's Empowering The Enemy And This Ban...Would Take People... Who Came To Our Side In Iraq And Afghanistan And Who Are Under Siege In Their Own Countries, It Basically Becomes A Death Sentence For Them."

"I've been in the Air Force for 33 years, retired this June. He's the ISIL man of year by the way. I just got back from Iraq a week ago this Monday... Now we have young men and women in harm's way all over the world, particularly in the Middle East. They were concerned about this rhetoric because the enemy will use it against us. What was a concern last week has to be DEFCON 4 this week. Because what Mr. Trump is doing, and I don't think he has a clue about anything... He's putting our soldiers and diplomats at risk, he's empowering the enemy and this ban, if it's actually enacted, would take people who have been interpreters, who came to our side in Iraq and Afghanistan and who are under siege in their own countries, it basically becomes a death sentence for them."
"I've Been [To The Middle East] 36 Times. I Can Tell You That Most Muslims, Most People In The Faith Reject This Radical Ideology." "The reason we'll win this war is because very few fathers and mothers want to turn their daughters over to ISIL. The way you win the war is you don't just kill terrorists, you invest in the lives of others."
"Giving A Young Woman A Voice About Her Children In The Middle East Is The Ultimate Antidote To Terrorism. That's How You Win The War. A Hopeful Life Versus A Glorious Death."
"And What Mr. Trump Is Doing Is Undercutting Everything We Stand For. He's Undercutting How You Win The War, He's Empowering The Enemy, And He's Putting People At Risk Who Are Serving Our Country."
"[Trump's] Never Served. Going To A Military High School - Donald - Is Really Not Military Service." "You've never worn the uniform, you've never been on a forward operating base, you've never been at a PRT as a member of the Department of Justice or the Department of State, you've never been a USAID worker going into some poor devastated area in Iraq and Afghanistan trying to help our country by helping others. So knock it off, you're putting people at risk."
"He Is Empowering Radical Islam And If He Knew Anything About The World At All, [He] Would Know That Most Muslims Reject This Ideology, And They've Died By The Thousands Trying To Reject This Radical Ideology."
"You're Undercutting Their Efforts, You're Slandering Their Sacrifice, You're Marginalizing What They're Trying To Do To Make The World A Better Place."
Lindsey Graham, Press Release - Graham On CNN New Day: "You Know How You Make America Great Again? Tell Donald Trump To Go To Hell" Online by Gerhard Peters and John T. Woolley, The American Presidency Project https://www.presidency.ucsb.edu/node/312580