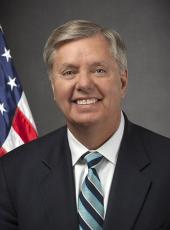 Press Release - Graham 2016 Launches "No Nukes For Iran" Tour Monday in New York City
Alexandria, VA — On Monday, Senator Lindsey Graham will be joined by special guests, Senator Joe Lieberman and Senator John McCain, to launch his "No Nukes for Iran" Tour at a town hall meeting in New York City. Senator Graham has been at the forefront of the fight to stop the Obama Administration's bad nuclear deal with Iran and the "No Nukes for Iran" Tour is the latest in those efforts.
The "No Nukes for Iran" Tour will be a nation-wide tour aimed at encouraging members of Congress to vote against the bad deal negotiated by the Obama Administration. It will take Senator Graham to states such as Indiana, Colorado, Florida, Massachusetts, Pennsylvania, Nevada, Minnesota, and more.
The tour will take place over the course of the next 60 days or until Congress votes on this bad deal. While it will take time away from the campaign trail, Senator Graham has spoken at length about the priority of defeating this bad deal because of its implications for the future, saying most recently on CNN, "This is a lousy deal negotiated by an incompetent Commander-in-Chief and the next president is going to have a mess on their hands."
In addition to speaking out against the bad deal with Iran, Senator Graham has offered solutions for what he would do in the negotiations if he were president. As he said in an interview with NBC's Today Show, "I'd tell the Iranians you're not going to get a penny as long as you're the largest state sponsor of terrorism. I'd tell the Iranians we're not going to lift the UN arms embargo until you stop toppling your neighbors. I would make sure that you would never take inspections away as long as they were the largest state sponsor of terrorism."
NOTE: To attend on Monday, please RSVP to Press@Grahamhq.com

MONDAY, JULY 20th
WHO: Senator Lindsey Graham and Special Guests Senator Joe Lieberman and Senator John McCain
WHAT: "No Nukes for Iran" Town Hall Meeting
WHEN: Monday, July 20, 2015 at 4:00 p.m. ET
WHERE: 3 West Club

3 West 51st Street

New York, NY
Lindsey Graham, Press Release - Graham 2016 Launches "No Nukes For Iran" Tour Monday in New York City Online by Gerhard Peters and John T. Woolley, The American Presidency Project https://www.presidency.ucsb.edu/node/310838