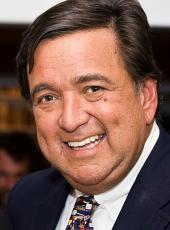 Press Release - Governors Bill Richardson, Janet Napolitano Send President Letter on Border Fence
SANTA FE – New Mexico Gov. Bill Richardson and Arizona Gov. Janet Napolitano sent a letter today to President Bush outlining concerns about efforts to secure the border, including plans to build a fence along one-third of the border. The letter was sent as both New Mexico and Arizona continue to deal with escalating violence along the U.S. border with Mexico.
"Recently, the violence and lawlessness has once again escalated along our border with Mexico, punctuated by brutal killings and retaliation murders impacting several New Mexico and Arizona border communities," the Governors wrote in the letter to the President. "Unfortunately, no real action is being proposed to curb this violent and dangerous situation."
Rather than spend money on a costly border fence, which could cost between $7 billion and $20 billion, Govs. Richardson and Napolitano urged the President to work with Congress to reallocate the money to more aggressively train and recruit more border agents and invest in border security technology.
"Under your initial proposal, the 370 miles of primary fence and 200 miles of vehicle barrier appear to be inadequate to accomplish the goals of the Secure Fence Act," the Governors wrote. "A fence, particularly one that leaves more than 1,400 miles, or two-thirds of the border, unattended and unsecured, would not have prevented the violence and murders near our border communities."
The Governors also expressed concerns about the possibility that the Department of Defense and the Department of Homeland Security intend to reduce the National Guard presence along the border this summer – before completing the recruitment and training of additional Border Patrol agents promised to Border States.
"We urge you to insist that the National Guard's presence be maintained at current levels unless and until the Border Patrol is staffed sufficiently to replace Guard troops on a one-to-one basis," the Governors wrote.
They also stated their objections to an ongoing effort to recruit Border Patrol agents to work in Iraq.
"At a time when violence is once again flaring up on our own border, it makes no sense for the United States State Department to empower a company to hire away as many as 120 veteran Border Patrol agents to serve as mentors to train Iraqis to guard their border," the letter states. "We should be focused on supporting our nation's security efforts along the Mexican and Canadian border instead of hampering CBP by sending our best agents to a war zone in Iraq."
Bill Richardson, Press Release - Governors Bill Richardson, Janet Napolitano Send President Letter on Border Fence Online by Gerhard Peters and John T. Woolley, The American Presidency Project https://www.presidency.ucsb.edu/node/294542