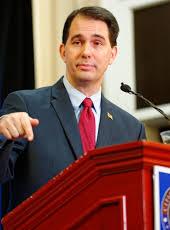 Press Release - Governor Scott Walker Announces Virginia Campaign Co-Chairs
Gov. Scott Walker today announced Virginia Delegates Terry Kilgore, David Ramadan, and Margaret Ransone as statewide co-chairs for his presidential campaign in the commonwealth. They join campaign chairman, State Sen. Mark Obenshain, in leadership of the campaign's efforts in Virginia.
"We are building a strong and experienced campaign team in Virginia, and we are pleased to announce these new members today," said Walker. "As we prepare for its March 1 primary election, we are grateful to Delegates Kilgore, Ramadan and Ransone for their support and their willingness to share our campaign's message of reform, growth and safety with the Commonwealth of Virginia."
From the co-chairs
"Gov. Scott Walker showed time after time that he has the ability to get things done," said Kilgore. "He is a fighter and a winner, and now more than ever, we need that kind of leadership in the White House."
"I'm honored to serve as a Team Walker co-chairman in Virginia," said Ramadan. "Gov. Walker understands the American Dream and is willing to fight for it. I look forward to working with Senator Obenshain and our entire team to elect Scott Walker as the next President of the United States."
"It is an honor to join in support of Gov. Scott Walker's presidential campaign," said Ransone. "Gov. Walker has proven leadership experience and a strong record of achieving results in the face of tough challenges. As a mother and businesswoman, I trust Gov. Walker to enact commonsense reform that will secure our country's future. Scott Walker is not only the best Republican in this race, but the best candidate for President of the United States."
Biographies
Delegate Terry Kilgore is currently serving his sixth term as Delegate for the First Legislative District of Virginia, which includes Scott, Lee, and portions of Wise and Washington counties. He serves on four standing committees, including Courts and Justice; Commerce and Labor; Militia, Police and Public Safety; and Rules. He is a native of Scott County, where he resides with his wife, Debbie, and their two children, Kayla and Kyle.
Delegate David Ramadan emigrated to the United States from Lebanon in 1989 and settled in Northern Virginia. Ramadan and his wife, Christie of Franklin County, Virginia, have lived in Loudoun for over 15 years. Ramadan was elected in 2011 and reelected in 2013; he represents the 87th House of Delegates District, which includes eastern Loudoun County and western Prince William County. Ramadan is an experienced international executive and entrepreneur with extensive knowledge of the US, Middle East and Indian markets. He is the co-founder and co-chairman of the Business Development Caucus in the Virginia General Assembly.
Delegate Margaret Ransone is a mother, a wife, a successful businesswoman, a lifelong resident of Westmoreland County, and a citizen legislator who represents the 99th District in the Virginia House of Delegates. Ransone lives in Kinsale with her husband, Todd, and their two chidren.
Scott Walker, Press Release - Governor Scott Walker Announces Virginia Campaign Co-Chairs Online by Gerhard Peters and John T. Woolley, The American Presidency Project https://www.presidency.ucsb.edu/node/310433