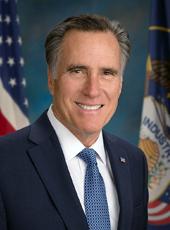 Press Release - Governor Mitt Romney Names Connecticut Statewide Finance Committee
FOR IMMEDIATE RELEASE

CONTACT: Kevin Madden (857) 288-6390
Boston, MA – Today, Governor Mitt Romney announced the 21 members of his Connecticut Statewide Finance Committee. These Connecticut leaders will help Governor Romney expand his base of support in the state and raise the resources necessary to be competitive throughout the election process.
"It is an honor to have the support of these distinguished Connecticut business and community leaders," said Governor Romney. "With their help, we will bring much needed change to Washington and address the new generation of challenges facing our nation."
Background On Governor Romney's Connecticut Statewide Finance Committee Co-Chairs:
David A. Burke (Westport) is a finance executive, who has lived in Connecticut since 2001. He served as the state GOP Finance Chairman from 2004 to 2006, as a member of Congressman Shays' Finance Committee Leadership and as a "Maverick" fundraiser for Bush-Cheney '04. Burke serves on the Board of FC Safe Kids and the U.S. Commission for the Preservation of America's Heritage Abroad. He is a past Board member of The Boys' Choir of Harlem.
L. Scott Frantz (Riverside) is President of Haebler Capital, a private investment company located in Greenwich, Connecticut, with interests in private and public equity markets, venture capital, the specialty coffee importation business and industrial privatization in emerging markets. He also serves as Chairman of the Connecticut Development Authority and of the Bradley International Airport Board of Directors and is a director of the Connecticut Brownfields Redevelopment Authority, Haebler Capital, Marina America, Inc., Granite Ventures and Directorship, Inc.
Bill Harrison (Greenwich) served as Chairman and CEO of JP Morgan Chase from 2001-2005 and has been a director at JP Morgan Chase since 1991.
Jay F. Malcynsky (Chester) is Co-Founder/Managing Partner at Gaffney, Bennett and Associates, Inc., and is a practicing attorney licensed in Connecticut and Washington, D.C. In these capacities, he has distinguished himself as one of the most knowledgeable, highly respected, and capable professionals in the field of government relations and political consulting, as well as administrative law. Under his leadership, Gaffney, Bennett and Associates has mounted a record of success unsurpassed in Connecticut. Most recently, Malcynsky served as campaign manager for Bush for President in Connecticut.
Donald K. Miller (Greenwich) is the Chairman of Axiom International Investors LLC. He is the former Chairman and CEO of Thomson Advisory Group LP. He also served as Chairman of Greylock Financial Inc., a venture capital company and was previously the President of 1221 Associates Inc., the private investment partnership for the Managing Directors of Blyth Eastman Paine Webber Inc.
Mark Nielsen (Ridgefield) is currently Assistant General Counsel of the Raytheon Company at its World Headquarters in Waltham, Massachusetts. From September 2004 through January 2007, he served as Chief Legal Counsel, and then Chief of Staff to Governor Mitt Romney. In the 1990s, Nielsen represented Greater Danbury in the Connecticut State Senate.
David Neeleman is the founder and Chief Executive Officer of Jet Blue Airways. Prior to founding Jet Blue Airways, Neeleman was a co-founder of WestJet and from 1996 to 1999 served as a member of WestJet's board of directors. From 1995 to 1998, he served as the CEO and member of the board of Open Skies, a company that develops and implements airline reservation systems and which was acquired by the Hewlett Packard Company. From 1988 to 1994, he served as President of Morris Air Corporation, a low-fare airline that was acquired by Southwest Airlines.
Background On Governor Romney's Connecticut Statewide Finance Committee Members:
- Peter Barhydt, President, Aberdeen Associates, Greenwich

- Jim Barnes, CEO, Oakleaf Waste Outsourcing, West Hartford

- Greg Butler, Sr. Vice President & General Counsel, Northeast Utilities, Glastonbury

- John J. Donahue, Chairman, NIA/Magellan Health Services, Riverside

- Scott G. Fossel, Retired, Venture Capital, Greenwich

- Murray S. Kessler, President & CEO, UST Inc., Greenwich

- Jack E. McGregor, Of Counsel, Cohen & Wolf, P.C., Bridgeport

- Thomas McInerney, President & CEO, ING Insurance Americas, Simsbury

- J. Barry McMullin, Vice President of Sales, Wasserman Media Group, Darien

- Christian L. Oberbeck, Managing Director, Saratoga Partners, Greenwich

- John Pavia, Managing Director, Siena Lane Partners, Easton

- Malcolm S. Pray, Retired, Pray Automotive, Greenwich

- Russell S. Reynolds, Jr., Founder & Former CEO of Russell Reynolds Associates., Chairman, Directorship Search Group, Inc., Greenwich

- George Skakel, CEO, EMG, LLC, Greenwich
Mitt Romney, Press Release - Governor Mitt Romney Names Connecticut Statewide Finance Committee Online by Gerhard Peters and John T. Woolley, The American Presidency Project https://www.presidency.ucsb.edu/node/296112