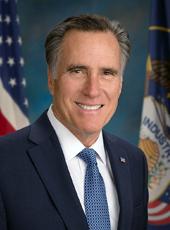 Press Release - Governor Mitt Romney on His 1994 Debate With Senator Ted Kennedy
FOR IMMEDIATE RELEASE

CONTACT: Kevin Madden (857) 288-6400
Boston, MA – Tonight, Governor Mitt Romney appeared on the "The Glenn and Helen Show" and responded to video clips that have resurfaced from his 1994 U.S. Senate debate against Sen. Ted Kennedy (D-MA). Because Governor Romney has made strides with conservatives based on his strong record as governor, opponents have focused attacks on ancient footage from 13 years ago. Governor Romney's call into the show and comments on the 1994 debate can be viewed in a new posting at Mitt TV:
"Well, I just got a look at the excerpts from my debate against Ted Kennedy in 1994. It reminded me of why I ran against him in the first place. Someone had to give him a run for his money.
"Now, it also shows what 13 years will do. I'm grayer. I'm a little heavier. And I hope I've grown a bit wiser as well.
"Of course, I was wrong on some issues back then. I'm not embarrassed to admit that. I think most of us learn with experience. I know I certainly have.
"If you want to know where I stand by the way, you don't just have to listen to my words, you can go to look at my record as governor. Frankly, in the bluest of states. Facing the most liberal media in the country. I've led the fight to preserve traditional marriage. I've taken every legal step I could conceive of, to prevent same sex marriage.
"I have also taken action to protect the sanctity of life. I vetoed bills that authorized embryo farming, therapeutic cloning, Plan B emergency contraception, and of course a redefinition of when life was going to begin as well.
"I've also fought for family. I've promoted abstinence education in the schools.
"I fought for English immersion in our schools and school choice. And of course as you'd expect from a Republican, I've held the line on taxes and I've worked to re-instate the death penalty.
"And I'm proud that at the same time, I've fought discrimination. I believe every American deserves equal opportunity.
"Now, that's my record. And maybe that's why people on the other side are dredging up 13 year old history and attacking me now."
To view video, please see: http://mittromney.permissiontv.com/?showid=36427
Mitt Romney, Press Release - Governor Mitt Romney on His 1994 Debate With Senator Ted Kennedy Online by Gerhard Peters and John T. Woolley, The American Presidency Project https://www.presidency.ucsb.edu/node/297154