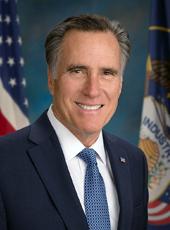 Press Release - Governor Mitt Romney Announces New Hampshire Staff
FOR IMMEDIATE RELEASE

CONTACT: Kevin Madden (857) 288-6400
Boston, MA – Today, Governor Mitt Romney announced the staff members of his New Hampshire Leadership Team. Leading Governor Romney's efforts in the state will be New Hampshire native and Manchester attorney Jim Merrill as State Director.
Governor Romney also announced that Jamie Burnett will serve as Political Director and Kristy Stuart will be the state's Field Director.
"The team we have assembled in New Hampshire represents years of campaign experience in the Granite State. I look forward to working with them as we continue sharing our vision for bringing real change to Washington and putting conservative principles back to work," said Governor Romney.
With today's announcement, State Chair Bruce Keough said, "Governor Romney already enjoys considerable support in the Granite State. Together, we will help ensure that Governor Romney's belief in lower taxes and smaller government continues to resonate with the people of New Hampshire. This team is strong with years of experience in grassroots campaigning."
Background On Governor Romney's New Hampshire Team:
Jim Merrill – State Director: A New Hampshire native, Jim spent over two years on the staff of former Governor Stephen E. Merrill. In 1999, Jim joined the campaign staff of President George W. Bush, later serving as Statewide Field Director for Bush's successful 2000 general election campaign. In 2004, Jim was appointed NH Grassroots Co-Chairman for President Bush's re-election campaign, and also served as legal counsel. A Manchester attorney, Jim served as legal counsel to the campaign of a NH Governor, and is past legal counsel to the NH Republican State Committee. In 2004, Jim was honored as one of New Hampshire's "40 Under Forty", which recognizes rising leaders in the state.
Jamie Burnett – Political Director: Jamie joins the Romney campaign from the office of Senator John E. Sununu (R-NH), where he most recently served as the Senator's Legislative Director in Washington, D.C. In 2004, he took a brief leave of absence from the Senator's staff to manage the Nashua Republican Victory Office. In 2002, Jamie held the position of Statewide Field Director for then Congressman Sununu's successful campaign for U.S. Senate. Jamie also previously served on the legislative staff of Senator Judd Gregg (R-NH). Jamie grew up on the New Hampshire seacoast, and attended undergraduate and graduate school at the University of New Hampshire.
Kristy Stuart – Field Director: Kristy worked as a Legislative Aide at the New Hampshire Senate for nearly four years serving the Finance and Capital Budget Committees and assisting the Finance Chair. She took a leave of absence and worked as a Political Consultant during the 2004 election for Senators Bob Flanders, Bob Odell, Andy Peterson and Tom Eaton. She was office manager at the Republican State Committee from 2001-2003. Kristy began in politics as an intern for the McCain for President Campaign in South Carolina as a student at the University of South Carolina.
Scott Scheid – Coalitions Director: Scott joins the Romney campaign from California, where he most recently served as the Regional Field Director (Sacramento Region) for the California Victory '06 effort. Prior to that, Scott worked as the On-Site Campaign Manager for former Republican Congressional candidate Eric Roach.
Emily Cantin – Field Representative: Emily most recently worked as a scheduler for former Congressman Rob Simmons (R-CT). In 2006, Emily took a leave of absence from her position to work in the field on the Simmons re-election campaign. She is a 2005 graduate of Saint Anselm College.
Mike Hamilton – Field Representative: Mike comes to the Romney campaign from Public Opinion Strategies, a Republican polling firm based in Alexandria, VA, where he was a Project Director during the 2006 election cycle. He started at POS as a Research Assistant in 2003. Mike is originally from the Boston area, and graduated from Dartmouth College in 2003.
Jonathan Page – Information Director: Originally from Bow, Jonathan spent seven years with the New Hampshire State Senate, working for the Republican Leader for three years and the Republican President of the Senate for four years. Jonathan was the Director of Operations for the 2002 Keough for Governor campaign, and in 2004 was the manager of the Gatsas for State Senate campaign.
Kristen Van Horn – Office Manager: Kristen joins the Romney campaign from the Manchester Sports Council, where she most recently served as its Executive Director. Previously, Kristen worked on the staff of former Governor Craig Benson specializing in constituent services. Kristen also served as Scheduler and Volunteer Coordinator for Manchester Mayor Frank Guinta.
Lauren Daigle – College Coordinator: Lauren, a senior at the University of New Hampshire and native of Stratham, presently serves as Chair of the UNH College Republicans and President of the UNH Students for Life. Lauren has served on the NH College Republicans State Board for the past two years, and has been nominated for the 2007 UNH Student Leader of the Year award.
Mitt Romney, Press Release - Governor Mitt Romney Announces New Hampshire Staff Online by Gerhard Peters and John T. Woolley, The American Presidency Project https://www.presidency.ucsb.edu/node/296363