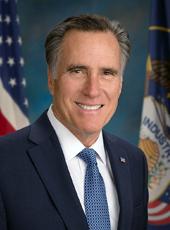 Press Release - Governor Mitt Romney Announces Nevada Finance Steering Committee
FOR IMMEDIATE RELEASE

CONTACT: Kevin Madden (857) 288 - 6390
Boston, MA - Today, Governor Mitt Romney announced the Romney for President Nevada Finance Steering Committee led by Former Governor Kenny Guinn and Former Congresswoman Barbara Vucanovich. Together, the Finance Steering Committee will help Governor Romney raise the resources needed to campaign in Nevada and across the nation.
"I am honored to have the support of some the most influential and talented leaders in Nevada," said Governor Romney. "These outstanding men and women share my vision to bring real change to Washington and to address a new generation of challenges facing our nation. I know this team will help make sure every person in Nevada knows my vision for a safer, stronger, and more prosperous future for our country."
Governor Romney has made several trips to Nevada meeting with top business and political leaders. He will be in Las Vegas this evening for a fundraiser.


Background On The Romney For President Nevada Finance Steering Committee:
Kenny Guinn - Chair: Governor Guinn served as Nevada's Governor for two terms from 1999-2007. In 2005, Time Magazine named Governor Guinn one of the nation's best Governors. He is also the former President of the University of Nevada, Las Vegas and the former CEO of Southwest Gas.
Barbara Vucanovich - Chair: The first female Nevadan elected to federal office, Congresswoman Vucanovich served seven terms in Congress from 1983-1997. She was a member of the Conservative Opportunity Society, founded to help Republicans regain control of the House of Representatives, a goal they achieved in 1994. She also helped draft two of the ten bills that made up the Contract with America.
Bruce James - Co-Chair: James recently retired as the nation's 24th Printer of the United States and CEO of the U.S. Government Printing Office. He ran for the U.S. Senate in 1998, and later served as Finance Chairman of the Nevada Republican Party, Vice-Chairman of the Nevada Policy Institute and President of Keystone Corp.
Stan Parry - Co-Chair: Parry is a partner with Ballard Spahr Andrews & Ingersoll. He was the Chairman of the City of Las Vegas Ethics Review Board, was an U.S. Department of Justice and Organized Crime Strike Force Attorney, and a Clark County Deputy District Attorney.
Jay Bingham - Co-Chair: A lifetime resident of Southern Nevada, Bingham currently owns and operates a local development company. He also serves on the Colorado River Commission and is President of JDB, a political consulting and public relations firm. Bingham has served the public for a total of 15 years, as a City Councilman of North Las Vegas and a Clark County Commissioner for three terms.
Chip Maxfield - Co-Chair: Commissioner Maxfield was elected to the Clark County Board of Commissioners in November of 2000 and served as Commission Chair from 2003 – 2005. He currently serves as Commission Vice Chairman. Commissioner Maxfield is also the President of Maxfield Group, a company providing engineering and land development services to clients in Nevada, Arizona and southern California.
Michael Montandon - Co-Chair: Mayor Montandon was elected Mayor of North Las Vegas in July 1997 and was re-elected to his third four-year term on July 1, 2005. Prior to becoming Mayor, he served on the North Las Vegas Mayor's Task Force for Wages, Benefits and Finance, studying fiscal responsibility in city management and the work force. He also completed the Harvard University Program for Senior Executives at the John F. Kennedy School of Government. Montandon is presently employed in the construction management industry and served as the treasurer of the Las Vegas Chapter of the Appraisal Institute in 1995 and 1996.
Mitt Romney, Press Release - Governor Mitt Romney Announces Nevada Finance Steering Committee Online by Gerhard Peters and John T. Woolley, The American Presidency Project https://www.presidency.ucsb.edu/node/296333