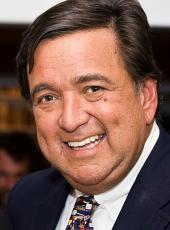 Press Release - Governor Bill Richardson Moves to 13% in New Iowa Poll
Richardson now leads Obama among likeliest caucus-goers
SANTA FE, NM -- New Mexico Governor Bill Richardson has jumped to 13% in a new survey of likely Iowa caucus-goers, a 10-point gain since March. He is the only Democrat to make any significant gains over the past three months. Among the likeliest caucus-goers (representing just over 40% of the sample -- voters who attended the 2004 caucuses, voted in the 2006 primary, and say they are definite to attend next year's caucus) Governor Richardson has actually overtaken Senator Barack Obama and moved into third place at 18%.
"These positive numbers are exciting but not surprising -- Iowans are getting to know Bill Richardson and he's winning them over," said David Contarino, Governor Richardson's campaign manager. "In advertising and in person, the Governor has begun to get his message out to Iowans and they are responding. The Governor is spending a lot of time campaigning across Iowa, shaking hands, attending community events, and wearing out the shoe leather listening to people. People are responding to the Governor's plan to get the US out of Iraq with no residual troops and his "man on the moon' vision for building America's energy independence and creating a new, renewable energy economy. Furthermore, Iowans know we need a President who is ready -- on day one -- to reverse the damageof the Bush administration. Bill Richardson's record of accomplishment has convinced many Iowans he can be that President."
The poll of 500 likely Iowa caucus-goers was conducted for the Richardson campaign by Fairbank, Maslin, Maullin and Associates June 18-20 and has a margin of error of + 4.4%.
Governor Richardson is now solidly in double-digits in both Iowa and New Hampshire. A CNN-WMUR TV poll following the June 3 debate had the Governor at 10%, as did last month's poll published in the Des Moines Register.
Here are the results to the question "If the caucuses were held today, who would you support?" (likely caucus-goers)
| | |
| --- | --- |
| John Edwards | 34% |
| Hillary Clinton | 24% |
| Barack Obama | 17% |
| Bill Richardson | 13% |
| Joe Biden | 2% |
| Dennis Kucinich | 2% |
| Chris Dodd | 0% |
| Other | 1% |
| Don't Know/NA | 8% |


Here are the results to the same question, broken out among "likeliest" caucus-goers (representing just over 40% of the sample -- voters who attended the 2004 caucuses, voted in the 2006 primary, and say they are definite to attend next year's caucus)
| | |
| --- | --- |
| John Edwards | 31% |
| Hillary Clinton | 23% |
| Bill Richardson | 18% |
| Barack Obama | 16% |
| Joe Biden | 3% |
| Dennis Kucinich | 2% |
| Chris Dodd | 0% |
| Other | 1% |
| Don't Know/NA | 8% |
Bill Richardson, Press Release - Governor Bill Richardson Moves to 13% in New Iowa Poll Online by Gerhard Peters and John T. Woolley, The American Presidency Project https://www.presidency.ucsb.edu/node/295544