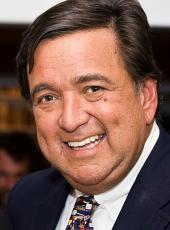 Press Release - Governor Bill Richardson Builds Momentum at California State Democratic Party Convention
Delegates Respond to "Insurgent" Candidate- Richardson Best Qualified to Take Over The White House
Richardson fires-up party faithful with bold plans for universal health coverage, immigration, election reform
SAN DIEGO, CA -New Mexico Governor Bill Richardson today showed an enthusiastic crowd of more than 2,000 delegates to the California State Democratic Convention why he is the best qualified candidate for President. The Governor showcased his extensive experience with confronting and solving problems and building consensus through his career as a Congressman, US Ambassador to the United Nations, Secretary of Energy, and as two-term Governor of New Mexico. The Governor also cautioned delegates not to believe media hype about "top-tier candidates" and said the election will be decided by voters who pick the best candidate- not by early polls or fundraising totals.
"This election is about doing what is right for the country- choosing the best person to get us out of Iraq, heal the division in this country, rebuild our alliances, and restore America's standing in the world," said Governor Richardson. "There is no substitute for experience, and while the other candidates may talk about tough issues, I've dealt with them, I know what it takes, and I don't need on-the-job training."
Bill Richardson is running for President of the United States President because he believes he can heal our divisions and restore America's standing in the world. He has spent his career as a diplomat, a congressman, and a chief executive - bringing people together. He has negotiated directly with some of the world's toughest dictators - Saddam Hussein, North Koreans, Castro, al-Bashir in Sudan - and brought American hostages back home. He has crossed party lines to get things done as Governor of New Mexico - to invest in schools, provide healthcare, and fight crime in my state - getting 40% of the Republican vote. He has done these things as a Congressman, Governor, Secretary of Energy, and an Ambassador - and that is what he will do as President.
Bill Richardson, Press Release - Governor Bill Richardson Builds Momentum at California State Democratic Party Convention Online by Gerhard Peters and John T. Woolley, The American Presidency Project https://www.presidency.ucsb.edu/node/294654