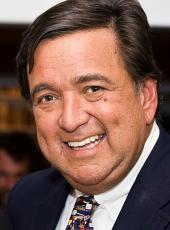 Press Release - Governor Bill Richardson Announces Formation of Grassroots Latino Outreach Program "Mi Familia con Richardson"
LAS VEGAS, NV -- New Mexico Governor Bill Richardson today announced the creation of Mi Familia con Richardson, a national grassroots Latino outreach program.
Mi Familia con Richardson will become an essential part of the Richardson for President Latino outreach efforts across the country. Families supporting Governor Richardson will find five additional supporters, and if this goal is met, a local chapter of Mi Familia con Richardson can be formed. Members will commit to aiding the Governor's campaign in a variety of ways leading up to the Democratic caucus or primary in their state.
"My campaign is about talking to people face-to-face," Governor Richardson said. "Grassroots programs like Mi Familia con Richardson are a great way to get my message out directly to voters. I am proud to be the first candidate to reach out to Latinos on a grassroots level. As a proud Latino myself, I am hopeful that the political clout of Latinos will increase in the coming years, and Mi Familia con Richardson is one way to help that happen."
At a press conference today in Las Vegas, Richardson presented the charter membership to the Nevada Mi Familia con Richardson organization. Richardson was joined at the announcement by Felipe Fuentes, Democratic National Committee Hispanic Caucus Chairwoman Ramona Martínez, Reynaldo Martínez, Gilberto Ocanas, California State Senator Alex Padilla, Christine Trujillo, and Patsy Trujillo, along with Richardson for President senior adviser Rick Hernández.
"I am happy to have the Latino community involved in my campaign through Mi Familia con Richardson," Governor Richardson said. "Having a broad and diverse coalition of supporters illustrates my ability to bring our country together. I have worked to build consensus my entire career, from my time as U.S. Ambassador to the United Nations to two terms as Governor of New Mexico, and I will continue to do so as President."
In conjunction with Mi Familia con Richardson, Governor Richardson will continue to mobilize voters and spread his message of change and experience across the country.
Below are the names and biographies of some of the Mi Familia con Richardson supporters in attendance at the press conference:
Felipe Fuentes

Felipe Fuentes is a California State Assemblyman from the 39th District, taking office after winning a special election in May 2007. Fuentes started his career working for children's and immigrants' rights at the Center for Human Rights and Constitutional Law. After working as a field deputy in the 7th council district, he was appointed Deputy Mayor of the San Fernando Valley in 2001. In this role, he piloted the "Safe Routes to Schools" program and brought the first new police station to the San Fernando Valley in a quarter-century. He then went back to the 7th council district to serve as Council President Alex Padilla's Chief of Staff. Fuentes currently resides in Sylmar, California with his wife Lena and daughter Iliana.
Reynaldo Martínez

Reynaldo Martínez is the Nevada Campaign Chairman of the Richardson for President campaign. For 16 years, he served as now Senate Majority Leader Harry Reid's Chief of Staff. A native of Chama, New Mexico, Martínez now resides in Incline Village, Nevada. He met Governor Richardson while working at the National Education Association as a former political and legislative consultant over a quarter-century ago. Martínez also has an elementary school in North Las Vegas named after him where Governor Richardson spoke in mid-June 2007.
Christine Trujillo

Christine Trujillo is a DNC Committeeperson-at-large residing in Albuquerque, New Mexico. A native of Taos, New Mexico, she is a teacher of 20 years and currently serves as the President of the New Mexico Federation of Labor- AFL-CIO, the first educator and first woman to hold that office. Trujillo is also President of the New Mexico Federation of Educational Employees/American Federation of Teachers, District 3 Commissioner of the Public Education Commission, and the Albuquerque member of the Education Commission of the States, a position to which she was appointed by Governor Richardson in 2003. For her accomplishments, Trujillo has received the "Sí Se Puede" (Yes, We Can), Albuquerque Human Rights, "Brindis a la Mujer Hispana" (Toast to the Hispanic Woman), and "Women on the Move" awards, among others.
For more information, click here.
Bill Richardson, Press Release - Governor Bill Richardson Announces Formation of Grassroots Latino Outreach Program "Mi Familia con Richardson" Online by Gerhard Peters and John T. Woolley, The American Presidency Project https://www.presidency.ucsb.edu/node/294938