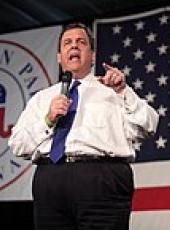 Press Release - Governor Baker and Lieutenant Governor Polito Endorse Governor Chris Christie for President
Announce rally in Bedford on Saturday with Governor Christie and Governor Hogan
For Immediate Release:
Friday, February 5, 2016
MORRISTOWN, NJ - Today, Massachusetts Governor Charles Baker and Lt. Governor Karyn Polito announced their endorsement of Governor Christie for President of the United States. Governor Baker joins Governor Larry Hogan of Maryland and Governor Paul LePage of Maine as the third Governor to endorse Governor Christie for President. The Governor and Lt. Governor will join Governor Christie and Governor Hogan at a rally tomorrow in Bedford at 10:30am.
"Right now, our country is in dire need of Governor Christie's tested, and strong leadership," stated Governor Baker. "I've gotten to know Chris very well over the years and know he is the leader our nation needs in Washington. His solid record of getting results for the people of New Jersey while balancing every budget, cutting spending, vetoing more tax hikes than any Governor in American history, and creating over 230,000 private-sector jobs shows that he is ready to take on the serious challenges our next President will face."
"Governor Christie has led as a Republican governor with a Democratic legislature and with strong, unwavering leadership, he was able to achieve historic bipartisan reforms in his state," said Lt. Governor Polito. "We need a leader like Chris who puts people over politics and a president who can make Congress do its job for the American people again."
"I am honored to receive the endorsement of my good friends Charlie Baker and Karyn Polito today," said Governor Christie. "As fellow leaders in a blue state who have taken on tough challenges to get things done in Massachusetts, they understand the unique training a governor has to not only take the fight to Hillary Clinton in the fall, but most importantly to lead our country back from the disastrous policies of the Obama years. Their experience and voices will be incredibly important not just over the next four days, but through November."
Governor Baker
Charlie Baker was inaugurated on January 8th, 2015 as the 72nd Governor of the Commonwealth of Massachusetts after defeating former state Attorney General Martha Coakley in one of the closest races in recent state history. As Chairman of the Republican Governor's Association, Governor Christie campaigned for Governor Baker throughout the hard fought election in Massachusetts.
Over the course of his career, Governor Baker has been a highly successful leader of complex organizations in business and in government. As a cabinet secretary under Governors William Weld and Paul Cellucci, Baker helped lead efforts to reform and modernize state government. During his time as Chief Executive Officer of Harvard Pilgrim Health Care, Baker turned a company on the brink of bankruptcy into the nation's highest ranked health care provider for six straight years.
Raised in Needham, Baker attended Massachusetts public schools and is a graduate of Harvard College. He went on to earn a Master's of Business Administration from the Kellogg Graduate School of Management at Northwestern University.
Governor Baker and his wife, Lauren, have been heavily involved in numerous civic and charitable endeavors. They live in Swampscott, and have three children: Charlie, AJ, and Caroline.
Lieutenant Governor Polito
Karyn Polito was inaugurated on January 8th, 2015 as the 72nd Lieutenant Governor of the Commonwealth of Massachusetts.
Lieutenant Governor Polito began her public service in local government, serving as a member of the Shrewsbury Board of Selectmen. She then expanded her work to the state level, serving as a member of the State Lottery Commission. Then, in 2001, Polito ran for State Representative and won, proudly representing the residents of the 11th Worcester District (Shrewsbury and Westborough) for five terms.
Lieutenant Governor Polito is a lifelong resident of Shrewsbury, where she owns and operates a commercial real estate development firm and lives with her husband and two young children.
Chris Christie, Press Release - Governor Baker and Lieutenant Governor Polito Endorse Governor Chris Christie for President Online by Gerhard Peters and John T. Woolley, The American Presidency Project https://www.presidency.ucsb.edu/node/311536