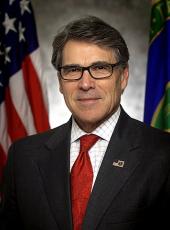 Press Release - Gov. Rick Perry Sets Agenda in Foreign Policy Debate on Zero-based Foreign Aid, Misguided Defense Cuts and Sanctions on Iran and Syria
President Obama supercommittee budget failures threaten U.S. defense, Perry says
WASHINGTON, D.C. — Texas Gov. Rick Perry broke through and set the agenda in tonight's American Enterprise Institute/Heritage Foundation/CNN foreign policy debate on issues including zero-based foreign aid budgeting, strong sanctions against Iran and Syria and the danger of the looming defense cuts because of Washington's budget failures.
"We need to sanction the Iranian Central Bank. That would be one of the most powerful ways to impact the Iranian regime," Gov. Perry said. "Another option in the region is a no-fly zone over Syria so that nation and Iran understand America is serious about fighting nuclear proliferation and terror in the region. This president refuses to do that and it's another show of lack of leadership from the President of the United States."
During the debate, Gov. Perry spoke about his commitment to leading our county with strength and making policy decisions based on his unshakeable belief in American exceptionalism. Creating a strong economy and job creation environment is key to strong foreign and defense policies. Gov. Perry said he believes that our young men and women serving overseas deserve to be represented by a president who will make strategic decisions based on strategic information from military leaders on the ground. In contrast, President Obama has repeatedly made foreign policy decisions based on the political climate rather than America's vital interests, threatening our nation's standing in the world.
The governor added, "I don't think anybody is particularly surprised that a supercommittee failed. It was a super failure. This president has been an absolute failure when it came to this budget process and the looming and deep defense cuts are totally and absolutely irresponsible. Even President Obama's own Secretary of Defense says the cuts are irresponsible. If Leon Panetta is an honorable man, he should resign in protest."
During the debate, Gov. Perry addressed his plan to start all U.S. foreign aid budget decisions at zero, ensuring that the country is distributing aid wisely. The governor spoke again about his dedication to approving aid that is in America's best interest for deserving nations, like our close Middle Eastern ally, Israel.
Gov. Perry is a veteran of the U.S. Air Force, where he volunteered his service from 1972-1977 and served as a tactical airlift pilot. He is the only presidential candidate who volunteered to serve. As governor of Texas, he is commander of the Texas National Guard, which in recent years was deployed in Iraq, Afghanistan and to border security operations.
¨The governor shared key pieces of his Overhaul Washington plan, which will establish a part-time, citizen Congress, cut congressional salaries, end lifetime appointments of federal judges, issue an immediate moratorium on new and pending federal regulations, and dismantle wasteful, redundant federal agencies. This plan builds upon other bold policy proposals Gov. Perry has presented in recent weeks, including his Cut, Balance and Grow and Energizing American Jobs and Security plans. Cut, Balance and Grow cuts personal and corporate tax rates to a lower, flat 20 percent rate, cuts federal spending, ends earmarks and corporate loopholes and calls for a federal Balanced Budget Amendment. Energizing American Jobs and Security will create up to 1.2 million jobs in every sector, reduce our nation's dependence on hostile foreign oil, revitalize manufacturing and help contain the cost of electricity and fuel.
The success and security of our nation depend heavily on the strength of our economy. Gov. Perry has the strongest job creation record of any candidate in the race. In addition, Texas has created more than one million jobs under the governor's tenure. Conversely, the nation has lost two million jobs while President Obama has been in office.
For information setting the record straight about various statements made during the debate, please visit http://www.rickperry.org/cnn-heritage-aei-debate-recap/ or follow @PerryTruthTeam on Twitter.
Rick Perry, Press Release - Gov. Rick Perry Sets Agenda in Foreign Policy Debate on Zero-based Foreign Aid, Misguided Defense Cuts and Sanctions on Iran and Syria Online by Gerhard Peters and John T. Woolley, The American Presidency Project https://www.presidency.ucsb.edu/node/298233