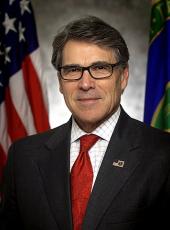 Press Release - Gov. Rick Perry: I Will Get America Working Again
Strong Performance in Reagan Presidential Debate
SIMI VALLEY, Calif. — Texas Gov. Rick Perry tonight declared to the American people his unshakeable commitment to get America working again as the next president of the United States. He shared his record of success in Texas as well as his plans to turn the country's economy around during the Reagan Centennial GOP Candidates Debate at the Ronald Reagan Presidential Library and Museum.
"I am pleased to have been able to introduce my conservative philosophy and pro-jobs record to the American people watching this important debate," said Gov. Rick Perry. "We must not allow four more years of the current administration's devastating economic policies. What I've accomplished in one state, I pledge to do for the entire country — to create a job-friendly environment, protect our border and citizens, provide essential services — and then get government out of the way."
During the debate, Gov. Perry highlighted his record of successfully creating a job-friendly environment in Texas, which continues to lead the nation in job creation. As governor, Perry has worked hard to keep taxes low, maintain a predictable regulatory environment, prevent frivolous lawsuits, and prioritize public education, all aimed at creating America's top economy and job-producing state.
Texas has created more than one million net new jobs under Gov. Perry and is home to approximately 40 percent of all net new jobs in America since June 2009. Gov. Perry is a proven fiscal conservative, having cut taxes, signed six balanced budgets, and led Texas to become America's top job-creating state. He is the only Texas governor since World War II to cut state general revenue spending.
Of all the candidates, including President Obama, Gov. Perry has the best record of job creation and has fought to defend and strengthen measures that have maintained a competitive economy, even during a national recession. Gov. Perry's record exceeds other candidates' rhetoric when it comes to job creation.
"I have a simple yet proven strategy, and I will get America working again as the next president of the United States. I will take decisive action to foster an environment for job creation and turn this great nation back into the land of opportunity."
For information setting the record straight about various statements made during the debate, please visit: http://www.rickperry.org/reagan-debate-recap/ or follow @PerryTruthTeam on Twitter.
Rick Perry, Press Release - Gov. Rick Perry: I Will Get America Working Again Online by Gerhard Peters and John T. Woolley, The American Presidency Project https://www.presidency.ucsb.edu/node/298031