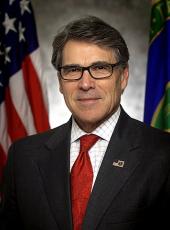 Press Release - Gov. Rick Perry Dominates CNN Debate with Forceful Discussion of Jobs and Conservative Record
Strong performance at CNN GOP Presidential Debate
LAS VEGAS — Texas Gov. Rick Perry dominated tonight's CNN debate, forcefully presenting his pro-job, conservative plans and record.
Gov. Perry spoke about his ideas to get America working again by creating 1.2 million jobs through his Energizing American Jobs and Security plan, which was unveiled last week. Gov. Perry's plan is the first part of a broader package of economic reforms that he will present to the American people in the coming days. The plan will create jobs in every sector, reduce our nation's dependence on hostile foreign oil, revitalize manufacturing and help contain the cost of electricity and fuel.
"My plan is based on one clear premise: Make what Americans buy, buy what Americans make, and sell it to the world," said Gov. Perry. "The American people are looking for a president with the ability to steer our nation toward economic prosperity and for substantial ideas to get America working again. My record of job creation in the state of Texas and my proposals to create jobs nationwide demonstrate that I am that president."
During the debate, Gov. Perry emphasized his intentions to eliminate job-killing regulations, ensure a fair and predictable tax system, create a just legal climate and put an end to unnecessary government spending. Gov. Perry has the strongest record of job creation of all the candidates, having established a pro-business, pro-jobs and pro-innovation environment in the state of Texas. Under Gov. Perry's tenure, Texas has led the nation in job creation with more than one million net new jobs generated. In contrast, while President Obama has been in office, the United States has lost 2.5 million jobs.
Gov. Perry tonight reiterated his commitment to repealing Obamacare, the job-killing government-mandated healthcare plan that began with Mitt Romney and must end with President Obama.
For information setting the record straight about various statements made during the debate, please visit http://www.rickperry.org/cnn-debate-recap/ or follow @PerryTruthTeam on Twitter.
Rick Perry, Press Release - Gov. Rick Perry Dominates CNN Debate with Forceful Discussion of Jobs and Conservative Record Online by Gerhard Peters and John T. Woolley, The American Presidency Project https://www.presidency.ucsb.edu/node/297578