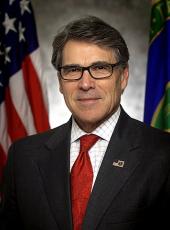 Press Release - Gov. Rick Perry Clear Winner of CBS Debate; Highlights Commitment to Unapologetic Leadership At Home and Abroad
SPARTANBURG, S.C. – Texas Gov. Rick Perry clearly won tonight's debate, hosted by the South Carolina GOP (SCGOP), CBS and National Journal, setting the agenda early with regard to foreign aid. CBS' Scott Pelley even directed a similar line of questioning to other candidates, who agreed with the governor's position.
Gov. Perry made it clear that Israel is a special ally to the United States and would continue to be a beneficiary of foreign aid. He reminded voters all across the nation that he volunteered to wear the uniform of the U.S. Air Force, which sets him apart from virtually everyone else on stage.
The most powerful moment of the debate was when Gov. Perry forcefully said he would use all means necessary to protect young men and women serving overseas. He also stressed the need to sanction the Iran Central Bank to deter Iran from acquiring a nuclear weapon.
"America has the greatest military in the world and we owe it to the men and women who daily put their lives on the line to command a clear foreign policy driven by America's vital interests," said Gov. Perry. "We can no longer afford the failed leadership of President Obama, which has wrecked our standing in the world, along with our economy.
"A strong defense and a strong economy go hand in hand you can't have one without the other. We must have both if we are to remain free. I will work to restore confidence in America both at home and abroad, by implementing policies that will reinvigorate our economy while upholding consistent foreign policy so our allies know where we stand."
Gov. Perry is a veteran the U.S. Air Force, where he served as a tactical airlift pilot from 1972-1977. As governor of Texas, he is commander of the Texas National Guard, which in recent years was deployed in Iraq, Afghanistan and to border security operations.
During the debate, Gov. Perry said he would start all U.S. foreign aid budget decisions at zero, approving aid that is in America's best interest for deserving nations like our strongest ally in the Middle East, Israel.
Gov. Perry also reiterated his commitment to leading our county, at home and abroad, with conviction and strength. He pledged to uphold foreign policy based on America's interests, use every tool available to support our allies and deter our adversaries, and engage our military only as a last resort, but when necessary, engage it forcefully, with clear objectives and a path to achieve those objectives.
The governor also championed his Cut, Balance and Grow plan and reiterated key parts of his Energizing American Jobs and Security plan, which will create up to 1.2 million jobs in every sector, reduce our nation's dependence on hostile foreign oil, revitalize manufacturing and help contain the cost of electricity and fuel. It is based on one simple premise: make what Americans buy, buy what Americans make, and sell it to the world.
Our nation is most secure when we have the strongest economy in the world. Gov. Perry's job creation record and vision to get America working again will revitalize our country's economic strength and security. He is the only candidate in this race that has the record of creating a pro-jobs, pro-innovation and pro-business environment, which allowed Texas to create almost 40 percent of all the jobs across the country since June of 2009. Under Gov. Perry, Texas has created more than one million net new jobs and ranked first in job creation. Under President Obama, America has lost more than two million jobs.
For information setting the record straight about various statements made during the debate, please visit http://www.rickperry.org/cbs-national-journal-debate-recap/ or follow @PerryTruthTeam on Twitter.
Rick Perry, Press Release - Gov. Rick Perry Clear Winner of CBS Debate; Highlights Commitment to Unapologetic Leadership At Home and Abroad Online by Gerhard Peters and John T. Woolley, The American Presidency Project https://www.presidency.ucsb.edu/node/298242