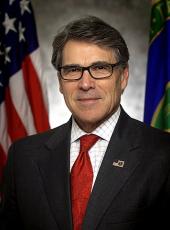 Press Release - Gov. Rick Perry Announces Participation in Reagan Centennial GOP Candidates Debate
Debate to Take Place Sept. 7 at Reagan Library in Calif.
AUSTIN — Texas Gov. Rick Perry has announced his participation in the Reagan Centennial GOP Candidates Debate on Sept. 7, 2011, at the Ronald Reagan Presidential Library and Museum in Simi Valley, Calif. The debate, hosted by the Ronald Reagan Presidential Foundation, will also be co-hosted by NBC News and POLITICO.
"Our current economic climate reminds many Americans of the disastrous economic policies of the late 1970s, and of the need to elect a leader who will get America working again — just as President Reagan did in the 1980s," Gov. Perry said. "While some want to merely emulate his good-humored leadership style, I believe we must also take a page from the Reagan economic playbook and adopt pro-growth policies that unleash entrepreneurship and create new jobs, and I will share my ideas on how to accomplish that during this important debate."
The Ronald Reagan Presidential Foundation is a non-profit, non-partisan organization dedicated to the preservation and promotion of Ronald Reagan's legacy of inspired freedom and his timeless principles of individual liberty, economic opportunity, global democracy, and national pride. It sustains the Ronald Reagan Presidential Library and Museum, the Reagan Center for Public Affairs, the Walter and Leonore Annenberg Presidential Learning Center and The Air Force One Pavilion. Located in Simi Valley, California the Library houses 63 million pages of Gubernatorial, Presidential and personal papers and over 60,000 gifts and artifacts chronicling the lives of Ronald and Nancy Reagan. It now also serves as the final resting place of America's 40th President.
For more information about the debate, please visit http://tinyurl.com/42uz9lf and ReaganFoundation.org
Rick Perry, Press Release - Gov. Rick Perry Announces Participation in Reagan Centennial GOP Candidates Debate Online by Gerhard Peters and John T. Woolley, The American Presidency Project https://www.presidency.ucsb.edu/node/297617