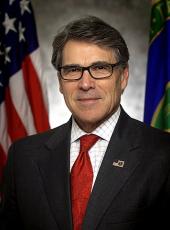 Press Release - Gov. Perry Announces Additional Campaign Advisors
AUSTIN — Gov. Rick Perry today announced several new key members of his campaign staff. Joe M. Allbaugh, Tony Fabrizio and Fred Maas will join the expanding Perry for president team as senior advisors to the campaign, while Curt Anderson, Jim Innocenzi and Nelson Warfield will serve on the campaign's national media team. Stanton Anderson will operate as the congressional liaison for the campaign.
"I am honored to have these experienced professionals joining our growing campaign team," said Gov. Perry. "These experienced advisors will play an instrumental role in helping me share my vision to get America working again with the nation, and I am proud to have their support as our campaign expands."
Joe M. Allbaugh managed or advised numerous political campaigns, including George W. Bush's 1994 gubernatorial campaign and 2000 presidential campaign, and Rudy Giuliani's 2008 presidential campaign. Allbaugh also served as director of FEMA from February 2001 through March 2003. He is the founder of the Allbaugh International Group, LLC, and serves on several corporate boards.
Curt Anderson is a partner with OnMessage, Inc. Anderson previously served in the White House under President Reagan as the associate director of public liaison. Anderson also worked as political director at the Republican National Committee under Haley Barbour. He was a senior strategist for Steve Forbes in 1999, directed coalition outreach efforts for the Bush/Cheney campaign in 2000, led the RNC's independent expenditure ad campaign to re-elect President Bush in 2004, was a member of the ad team for Mitt Romney's campaign in 2007/2008, and led the RNC's independent expenditure campaign against President Obama in the fall of 2008. Prior to starting OnMessage, Inc., Curt held many campaign posts including NRSC Coalition Director, NRSC Southern Regional Director, RNC Midwest Regional Director and RNC Political Director. In 2010 Anderson co-authored Governor Jindal's new book, "Leadership and Crisis."
Stanton Anderson currently serves as senior counsel to the president and CEO of the United States Chamber of Commerce, and previously served as executive vice president and chief legal officer. He also served as chairman of the Chamber's Campaign for Free Enterprise. Anderson is a former chairman of Global USA, Inc., a consulting company he founded in 1982. He has managed a number of Republican conventions and served as counsel to the Reagan-Bush campaign in 1980. Anderson is a part member of the President's Advisory Committee on Trade Negotiations and the Presidential Commission on Personnel Interchange. He also chaired the U.S. delegation to the United Nations conference on New and Renewable Energy Resources in 1981.
Tony Fabrizio is the principal of Fabrizio, McLaughlin & Associates, and is an expert on public opinion and politics and one of the nation's leading GOP pollsters. In addition to serving as pollster and strategist for Senator Bob Dole's 1996 presidential campaign, Fabrizio has worked for more than a dozen senators, more than 50 congressmen, a number of governors and other statewide elected officials. In 2010, Fabrizio served as pollster and strategist for Florida Gov. Rick Scott's successful campaign. Fabrizio also served as pollster and strategist for the independent expenditure effort of the Republican Governors Association in the Georgia governor's race in 2010. Additionally, Fabrizio and his firm served as pollsters and strategists for the National Republican Congressional Committee's IE efforts in 12 congressional districts, resulting in the election of 11 new GOP members of Congress.
Jim Innocenzi is a founding partner of Sandler-Innocenzi, an award-winning national political advertising firm. Throughout the firm's 28 year history, Jim has been the lead creative force behind dozens of high profile political campaigns, advising many governors, senators, and members of Congress. Some of his more recent clients include: Governors Dave Heineman of Nebraska and Butch Otter of Idaho; Congressmen Tom Rooney (FL), John Mica (FL), Mike Turner (OH) and Steve Buyer (IN); Congresswoman Cynthia Lummis (WY); and former GOP leader Adam Putnam (FL). Jim also served briefly on the John McCain for President Ad Council.
Fred Maas is the founder and CEO of Pacific EcoCompanies, LLC, a San-Diego based firm which specializes in investments and the development of sustainable buildings, communities and clean technologies. Maas has participated in national, state and local politics for more than 30 years, and worked for numerous prominent political figures, including John McCain, Bob Dole, Jack Kemp, Pete du Pont, Richard Lugar and Mitch Daniels.
Nelson Warfield is the founder of Warfield & Company, the national media firm, which helped secure wins in 2010 for Gov. Rick Scott in Florida, Sen. Pat Toomey in Pennsylvania and Congressman Tim Scott in South Carolina. Warfield is a veteran of President Reagan's White House staff. In 1996, he was the national press secretary for Bob Dole's presidential campaign. He has also served in numerous leadership positions within the Republican Party, from county committeeman to executive director of the Maryland GOP.
Rick Perry, Press Release - Gov. Perry Announces Additional Campaign Advisors Online by Gerhard Peters and John T. Woolley, The American Presidency Project https://www.presidency.ucsb.edu/node/297947