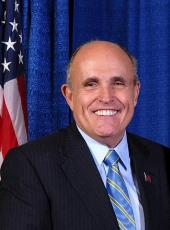 Press Release - Giuliani Unveils Plan to Cut Taxes in "Your Money. Your Choice." Forum with Granite Staters
Mayor Rudy Giuliani will discuss his commitment to cut taxes and reform the tax code with New Hampshire taxpayers and small business owners today in Manchester at his "Your Money. Your Choice." forum. Joining Mayor Giuliani at the forum are his National Campaign Co-Chair Steve Forbes and former Massachusetts Governor Paul Cellucci. Mayor Giuliani will continue talking about his commitment to fiscally conservative policies at later stops in Stratham, Seabrook Beach and Portsmouth, New Hampshire.
Rudy will commit to preventing an unprecedented tax increase of at least $3 trillion on American taxpayers by making permanent the current tax provisions, including lower marginal tax rates, giving the death tax the death penalty, and making permanent marriage penalty relief and child tax credit. He will also rein in growth of the Alternative Minimum Tax to prevent an unintentional tax increase on nearly 30 million Americans.
"I've seen how pro-growth policies lead to broader prosperity," Mayor Giuliani has said. "We'll not only keep the current tax cuts in place or their equivalent, we'll enact additional tax relief and give the Death Tax the death penalty. High tax rates hurt business and destroy jobs. I know that tax cuts are good for the economy. It's not just theory for me because I cut taxes and got results as Mayor of New York City. As President, I will cut taxes further."
Rudy was joined at today's forum by taxpayers Alan and Sheila Sewell, Brian Stowell, Ryan Cromier and Mark Carter. The Sewells benefit from the current lower marginal tax rates that let Sheila remain at home with their children, while lower taxes allowed Stowell to grow his family-owned small business, Crownpoint Cabinetry. Ryan Cromier, currently a college student working part-time to help pay for his education, can benefit from a strong job market fueled by lower taxes. Keeping current tax cuts in place is vital for Mark Carter, President of American Steel Fabricators, who was able to raise employee salaries as a result of lower taxes.
Cutting taxes and reforming the tax code is one of Rudy's Twelve Commitments to the American People, his bold vision aimed at moving America forward. He will continue to travel the country detailing his Commitments. For more about Rudy's Twelve Commitments, please click here.
Rudy Giuliani, Press Release - Giuliani Unveils Plan to Cut Taxes in "Your Money. Your Choice." Forum with Granite Staters Online by Gerhard Peters and John T. Woolley, The American Presidency Project https://www.presidency.ucsb.edu/node/294924