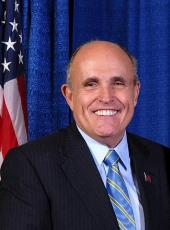 Press Release - Giuliani Campaign Announces Georgia Regional Chairs
The Rudy Giuliani Campaign today made the first of its regional chair announcements, naming campaign leadership in the Coastal, Central, Eastern and Greater Atlanta Regions of Georgia.
A talented group of current and former legislators and party leaders join Giuliani Georgia Chairman, Speaker of the House Glenn Richardson.
"Rudy Giuliani has the executive experience and proven record we need in our next President. I look forward to helping the Mayor build a strong grassroots effort throughout the central and southern parts of this state," said state Representative Jay Roberts, the Central Georgia Regional Chairman.
"Rudy Giuliani continues to impress Republicans in Georgia with his solid grasp of the challenges our country faces," said former Georgia GOP Chairman and Giuliani Greater Atlanta Co-Chair, Rusty Paul.
"This team will help spread the message across Georgia that Mayor Giuliani is the candidate that has a proven record on our most important issues," said Georgia Co-Chair State Sen. Ronnie Chance.
Rudy Giuliani's Georgia Regional Team
Coastal Georgia Chair Mary Flanders

Mary Flanders has served as president of the Savannah Area Republican Women, chairman of the Chatham County Republican Party and is now serving on the Department of Technical and Adult Education State Board. She is no new-comer to campaign work, having worked as Regional chairman for Senator Paul Coverdell and County Chairman for former Congressman Max Burns.
Greater Atlanta Co-Chair Rusty

Paul Rusty Paul is the founder and CEO of Isquared Communications, a marketing, public relations, advertising and government relations firm. He is a past chairman of the Georgia GOP and a former Georgia state senator with more than 30-years of experience in Georgia politics.
Greater Atlanta Co-Chair Jay Morgan

Jay Morgan is a former regional political director for Bush '88 and has served as senior advisor to now-U.S. Senator Johnny Isakson in 1996, 1999, and 2004. Jay has worked numerous statewide campaigns in Georgia and is one of the most respected and recognizable names in Georgia politics.
Greater Atlanta Co-Chair William Woodall

William Woodall is currently a partner at Thomas & Associates, one of Georgia's leading public affairs firms. Mr. Woodall played a vital role in helping elect Georgia's first Republican Governor since 1868 and served as 3rd Congressional District Chair for Governor Perdue for a New Georgia. In 2004, Mr. Woodall served as 8th Congressional District Chair for the Bush-Cheney reelection campaign.
Greater Atlanta Co-Chair State Representative Jeff May

Jeff May represents House District 111. Since his election in 2005, Rep. May has quickly taken on leadership roles in the Georgia legislature. His legislative duties include sitting on the Children & Youth and Transportation Committees, as well as serving as Secretary of the Economic Development & Tourism Committee.
East Georgia Chair State Representative Barry A. Fleming

Barry Fleming is a lifelong resident of Harlem, Georgia. After being elected in 1999 to the Columbia County Board of Commissioners and reelected the next year, Fleming was unanimously elected as Chairman of Board in 2001 and 2002. Barry was elected in 2002 to the Georgia House of Representatives from Columbia County. Fleming was reelected without opposition in 2004. As the Majority Whip, he holds the second highest position in the House Republican Caucus and is an Ex-Officio voting member of all House committees.
East Georgia Co-Chair Gwen Fulcher Young

Fulcher Young was recently elected Chairman of the Georgia Real Estate Commission, after previously serving as its Vice Chairman. She was an International Real Estate Hall of Fame inductee in 2000, and is a member of the Georgia Association of Realtors, the National Association of Realtors, the National Federation of Independent Business Owners, the Women's Business Enterprise National Council, and the National Women Business Owners Corporation. She was awarded the 2007 Women of Excellence Award and represented the city of Augusta as its First Lady during the mayoral terms of her husband, Mayor Bob Young.
Central Georgia Chair - State Representative Jay Roberts

Jay Roberts is now serving his second term in the Georgia State House of Representatives. He was elected Chair of the Majority Caucus and was appointed by Gov. Sonny Perdue as an Administration Floor Leader. He is also a member of numerous House committees, including Appropriations, Agriculture & Consumer Affairs, Economic Development & Tourism, Ways & Means and Ethics.
Rudy Giuliani, Press Release - Giuliani Campaign Announces Georgia Regional Chairs Online by Gerhard Peters and John T. Woolley, The American Presidency Project https://www.presidency.ucsb.edu/node/295767