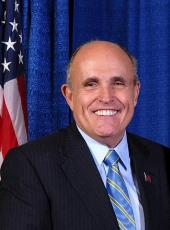 Press Release - Giuliani Campaign Announces Additions to Florida Field Staff
The Rudy Giuliani Presidential Campaign announced today a series of recent Florida field staff additions as Mayor Giuliani continues to expand his strong Florida team.
Joining Mayor Giuliani's state campaign, led by Florida Attorney General Bill McCollum and former Governor Jeb Bush's Campaign Manager Karen Unger, is a strong field staff that will help build upon the campaign's existing grassroots efforts. Today's announcement is the first of further additions to the Florida campaign.
"Florida will be an important player in the upcoming primary elections, and we are putting together the team it will take to make sure every Floridian knows about Mayor Giuliani's strong leadership and positive vision for the country," said Karen Unger, Giuliani's Florida Senior Advisor.
About the Florida Team:
Kathryn Staczek, Director of Field Operations
Staczek has worked in field and media operations for campaigns and initiatives in Florida, California and Washington, D.C., including Governor Arnold Schwarzenegger's 2006 re-election. She was also the Media Coordinator for the U.S. House Republican Conference. As Director of Field Operations, Staczek will oversee field staff across the state.
W. Kyle Rouse, Northeast Florida Field Representative
Rouse has worked for the National Republican Senatorial Committee and has experience as a field coordinator in Tallahassee for the 2004 Bush-Cheney campaign. He also worked as the political director of the Florida Chapter of the College Republican National Committee. Rouse has a B.S. from Florida State University.
Jeremy Collins, Central Florida Field Representative
Collins has worked for various campaigns and political offices in Florida and Washington, D.C. including the transition team for current Florida Governor Charlie Crist and the 2004 Bush-Cheney campaign.
Heather Weintrobe, West Florida Field Representative
Weintrobe worked as Hillsborough County Communications Chair for Florida Governor Charlie Crist's successful 2006 campaign and as a volunteer coordinator for Julie Brown's City Council Campaign in Tampa.
Leah Chambliss, Southeast Florida Field Representative
Chambliss has served a variety of campaigns and civic organizations including as Director of Grassroots Operations for U.S. Representative Clay Shaw's 2006 campaign and as treasurer of the College Republicans of Florida. Chambliss holds an undergraduate degree from Palm Beach Atlantic University.
Daphnie Ricobene, Southwest Florida Field Representative
Ricobene has managed and helped run a variety of campaigns and ballot initiatives, including West Palm Beach City Commissioner Jeri Muoio's campaign and the campaign of Florida State Senator Burt Saunders.
J.C. Flores, Miami-Dade Field Representative
Flores most recently served as special assistant to Florida House Speaker Marco Rubio and worked for a variety of private corporations including Quantum Results and Winton Dingwell Partners, Inc, both in Miami. Flores is a graduate of Florida International University
Rudy Giuliani, Press Release - Giuliani Campaign Announces Additions to Florida Field Staff Online by Gerhard Peters and John T. Woolley, The American Presidency Project https://www.presidency.ucsb.edu/node/295706