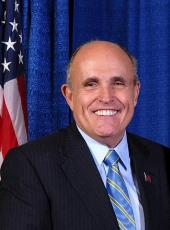 Press Release - Giuliani Ad Facts: "Fence"
AD FACT:
VOICE OVER: "Here's Rudy Giuliani."
GIULIANI: "It frustrates me that if someone comes here illegally, in addition to everything else that's involved in that, if they commit a crime, we don't throw them out of the country."
BACKGROUND:
Suspect In Newark, NJ Murders Of Three College-Bound Students Is Illegal Immigrant With Violent Criminal History. "As police continued to search for additional suspects in the execution-style killings of three young people in Newark, the debate over the immigration status of one of those already arrested picked up political steam. … One suspect, 28-year-old Jose Carranza, was an illegal immigrant from Peru who was granted bail earlier this year when he was charged with assault and child rape." (Jeffrey Gold, "Immigration Politics Swirling About Killings In Newark Schoolyard," The Associated Press, 8/13/07)
Illegal Immigrant In Tennessee Raped 15-Year-Old Girl Hours After Being Released From Jail After Federal Government Failed To Deport Him. "Maury County deputies and federal agents are looking for a man who is accused of raping a 15-year-old girl only hours after being released from jail. … [Juan] Villa is suspected of being in the country illegally and [Sheriff Enoch] George said the department had contacted Immigration and Customs Enforcement about him before he was released from jail but the federal agents said they would deal with him later." ("Man Accused Of Rape Hours After He Left Jail," The Associated Press, 7/4/07)
AD FACT:
GIULIANI: "As the mayor of New York I wanted to see if I could get the Immigration Service to help me. Let's see if you could get rid of the drug dealers who are coming out of jail. It makes no sense — after they have been in jail for selling drugs in the United States — we now have to keep them in the United States."
BACKGROUND:
As Mayor, Giuliani Said INS Failed To Deport Most Criminal Illegals, Even Though NYC Officials Gave Them Names. Giuliani: "We just happened to check the numbers and in this part of the state, there were only about 776 deportations last year of people. … Now we send thousands and thousands of names of illegal and undocumented aliens to the INS who have committed crimes. Either accused or convicted of committing crimes. So literally sitting at the INS is a pile maybe this big of names of people who have committed crimes and last year they got around to deporting seven to eight hundred of them. So before there are obligations placed on [city of New York], to turn over the names of children in school or their parents or people who use public hospitals, I'd like to see the Immigration and Naturalization Service dealing with people who commit crimes." (Mayor Rudy Giuliani, Joint Press Conference With Governor Pete Wilson [R-CA], New York, NY, 3/29/95)
Giuliani Called On Federal Government To Focus On Deporting Illegal Drug Dealers. Giuliani: "What the federal government could do is to deport more of the illegal drug dealers that we have in our city which … unfortunately, very few deportations take place of the people who are actually selling drugs who are illegal immigrants and that would be very helpful." (CBS' "Face The Nation," 9/22/96)
AD FACT:
GIULIANI: "They couldn't do it because they had other people lined up to throw out. They had like a professor who over-stayed his visa. I had a drug dealer who had maybe killed people. A person who comes here illegally and commits a crime should be thrown out of the country."
BACKGROUND:
St. John Fisher College Professor Ordered To Be Deported For Overstaying Visa. "Until three weeks ago, John Dwyer was teaching computer science at St. John Fisher College as a visiting professor from England. Tomorrow, however, Dwyer must return home. Immigration and Naturalization Service officials have threatened to deport him if he does not leave, because he does not have the proper authorization to hold a job in the United States. … Immigration officials say Dwyer's case is clear-cut: He had the immigration papers for a tourist, not for someone coming here for a job. … There is a visa that allows specialists to teach in the United States at a college's request. Dwyer, who previously taught for six years at the City University of New York, hopes that the college will initiate the process for what is called the 'H visa.' He has suggested that the college push for such a visa, he said, but officials have yet to do so." (Gary Craig and Donna Jackel, "INS Says Fisher Professor Must Go," Rochester Democrat And Chronicle, 3/4/00)
In Court Filings, New York City Lawyers Noted INS's Failure To Deport More Than A Small Portion Of 4,000 Illegal Aliens In City Jails. "By the mid-1990s, officials estimated that more than 500,000 undocumented aliens resided in New York State, 80 percent of them in New York City. The city's lawyers said information on more than 4,000 undocumented aliens who pass through city jails annually is shared with INS, but that the federal agency deports only 200 to 300 of that group." (Gaylord Shaw, "Giuliani Vs. Reno In High Court?" Newsday, 10/3/99; City of New York v. United States, 179 F.3d 29, Appellant's Brief [2d Cir. Jan. 9, 1998])
AD FACT:
GIULIANI: "People that come in illegally we gotta stop. You stop illegal immigration by building a fence, a physical fence and then a technological fence. You then hire enough Border Patrol so they can respond in a timely way. And then, if anybody becomes a citizen, we should make certain that they can read English, write English and speak English, because this is an English speaking country."
BACKGROUND:
Giuliani Is Calling For Physical And Technological Fences To Be Built Along Border. Giuliani: "So everything else has to kind of serve that purpose. A fence — a physical fence — very effective. A technological fence, in certain places [will be] very, very effective; meaning, photographic technology, heat sensing technology, different kinds of technology, all toward the goal of identifying everyone coming in to the United States." (Rudy Giuliani, Interview With John Fleischman, 3/26/07)
Giuliani: "We Have To Beef Up Border Security … We Have To Have A Much Larger Border Patrol And They Have To Be Trained In Being Able To Stop People." (Rudy Giuliani, Interview With WOC Radio, Davenport, IA, 6/4/07)
Rudy Giuliani, Press Release - Giuliani Ad Facts: "Fence" Online by Gerhard Peters and John T. Woolley, The American Presidency Project https://www.presidency.ucsb.edu/node/294838