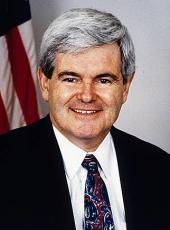 Press Release - Gingrich Talks Entitlements With Seniors
Originally posted at concordmonitor.com
By Molly Connors
Newt was in Concord, New Hampshire on Friday, speaking with a group of senior citizens at the Presidential Oaks retirement community about issues such as social security, healthcare, and the job market.
Newt Gingrich was in Concord this morning, promoting, among other things, his wife's forthcoming children's book, "American exceptionalism" and his presidential campaign.

The former U.S. House Speaker spoke with about 70 residents and staffers for about 45 minutes at the Presidential Oaks assisted living and retirement facility.

Wearing a dark suit and red tie, Gingrich spoke for roughly 10 minutes about what he thinks should be the nation's higher priorities:

Create jobs through economic growth
Foster a stronger sense of American exceptionalism through better education about U.S. history and a return to the country's founding principles
Keep America safe from physical and economic threats abroad.

Then for about a half hour, he answered questions which touched on welfare policies, social security and Medicare, the overarching role of government and tax policies that favor the rich. Here are some of the topics Gingrich addressed:

Social security:

Don't change anything for those currently retired or about to retire, he said, and let young people save for their own retirements.

Health care:

It is "very dangerous" to have bureaucrats in Washington making decisions that could effect the health of millions of people, Gingrich said. He would rather foster policies that put the emphasis back on the relationship between patient and doctor, he said.

Bureaucracy should be avoided, both at federal agencies and insurance companies. A system might work for 95 percent of the population, he conceded. But the 5 percent it doesn't work for, "you might be killing."

Empower individuals, he said, to take responsibility for their own health care.

Where did all the manufacturing jobs go? Why did we let it happen? Who is responsible?

It's a complicated problem, he said, which requires complicated answers.

"Elites" in universities and in the media, he said, are partly to blame. They thought it would be all right to let manufacturing jobs go.

"We don't need manufacturing," Gingrich said they argued. "We'll do really smart things instead."

"Well that's baloney," he said. "We're not all going to be tenured professors at Harvard."

To fix it, he said, America need to make itself a better place for business. That means, among other things, bringing the capital gains tax to 0 percent and cutting back on regulations.

Gingrich is scheduled to tour the Freudenberg-NOK's Manchester facility this afternoon, where he will discuss what he considers efficiencies found in the private sector that could be applicable to government.
Newt Gingrich, Press Release - Gingrich Talks Entitlements With Seniors Online by Gerhard Peters and John T. Woolley, The American Presidency Project https://www.presidency.ucsb.edu/node/297642