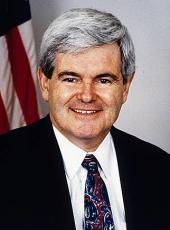 Press Release - Gingrich Talks About Obama Speech at New Hampshire Event
Originally Posted on Boston.com
By Shira Schoenberg

Newt spoke at the 'Politics and Eggs' event at the New Hampshire Institute of Politics at St. Anselm college on Friday. He remarked on Obama's speech, noting the President's claim to not engage class warfare and his regulations that are harming businesses.
MANCHESTER, N.H. – The day after President Obama laid out his plan for creating jobs, former House Speaker Newt Gingrich blamed Obama for everything from fomenting class warfare to implementing regulations that harm businesses.

"Last night proved he has learned nothing, he has no plans, he just has speeches," Gingrich said.

"He said I'm not engaged in class warfare, but let me bash rich people a bit," Gingrich continued. "What does he think class warfare is?"

Gingrich, a Republican candidate for president, spoke to about 100 people at a "Politics and Eggs" event at the New Hampshire Institute of Politics at Saint Anselm College. Gingrich is trying to revive a struggling campaign. He has lost almost all of his top advisers, ended the last fundraising quarter in debt and is flagging in the polls.

This trip, Gingrich held a town hall event at New England College, and will campaign later this morning at a retirement home in Exeter. He plans to spend the next two weeks in Florida, followed by a trip to Iowa and some fundraising, before returning to New Hampshire in October to participate in a debate at Dartmouth College.

President Obama's jobs plan would spend $447 billion on a mix of spending and tax cuts. It includes spending on schools, roads, teachers, and unemployment aid; would enlarge and extend a payroll tax cut; and cut taxes on businesses that hire new employees.

Gingrich said he agreed with the president about extending the payroll tax cut – and would like to bargain with the president to extend the Bush tax cuts in exchange for extending the payroll tax cut. He called the opposition of many Republicans to extending the payroll tax cuts "fundamentally foolish." "This is not the time to be raising taxes on working Americans," Gingrich said.

But he disagreed with Obama on the rest of the plan. Gingrich said Obama cannot claim his plan is paid for if the way to pay for it has not yet been determined. "It's like a 16 year old saying I just wrecked the family car. I need a new car, I need you to pay for it, and I guarantee by the time I'm 55 I'll pay it off," Gingrich said.

As have many of his Republican opponents, Gingrich criticized President Obama's health care reform overhaul and the Dodd-Frank financial regulatory reform for adding new regulations that create uncertainty for businesses.

And as Gingrich often does, he turned to history to prove the innovation of private enterprise over government bureaucracy – while criticizing the president for a faulty understanding of history. Obama pointed to President Abraham Lincoln as a president "who mobilized government to build the transcontinental railroad." Gingrich responded that under Lincoln, government gave subsidies to the private sector. "There was no federal department of railroads, secretary of railroads," Gingrich said.

Several people at today's breakfast said they believed Gingrich added to the debate, even if few were committed to voting for him. "He's a wellspring of ideas, he's thought-provoking and stimulating," said former Republican Party Chairman Fergus Cullen. "He's a voice of experience when others promise things they can't deliver."

John MacDonald, an independent voter and vice president of generation at Public Service of New Hampshire, said he likes Gingrich's views on boosting the economy, reducing the size of government and lowering taxes. "He's a student of history, and that's a good credential if you understand the past to be able to predict the future," MacDonald said.
Newt Gingrich, Press Release - Gingrich Talks About Obama Speech at New Hampshire Event Online by Gerhard Peters and John T. Woolley, The American Presidency Project https://www.presidency.ucsb.edu/node/297637