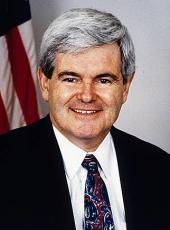 Press Release - Gingrich: 'Super Committee' Must Go
By Ashley Killough
Newt speaks out against the 'super committee' and puts forth a plan to pass many small bills, each with the goal of cutting spending or bringing in revenue through various energy and government reform programs.
Washington (CNN) - Former House Speaker Newt Gingrich wants the congressional "super committee," charged with cutting more than a trillion in spending by the end of the year, to get cut itself.

"Why is it super other than that they've aggregated power into 12 people who will spend the next few months fighting?" said the Republican presidential candidate in a speech Tuesday at the Heritage Foundation.

Members of the bipartisan committee, who were appointed last week, are tasked with finding between $1.2 and $1.5 trillion in spending cuts, scored over the next 10 years. The committee has until Thanksgiving to reach a decision.

Calling the idea "absurd," Gingrich said the committee is set up in such a way to prolong the recent partisan gridlock that pushed the debt-ceiling deal into its eleventh-hour agreement on Aug. 2.

"We've gotten into this cycle where small groups of elites get together, argue with each other in secret, tell us occasional press reports of their version of the arguments, and at the last minute come up with a proposal that says 'We're either going to cut off your right leg, or shoot you in the head. Which would you prefer?'" Gingrich said. "And we call that government."

Should the committee reach a stalemate, or if Congress votes down its proposal, the debt ceiling will be raised by $1.2 trillion by the end of the year, triggering automatic across-the-board cuts in government spending, including defense cuts.

The end-of-the-year agreement would also require both chambers of Congress to vote on adding a balanced budget amendment to the U.S. Constitution.

However, Gingrich said he expects nothing but a political impasse in the debt commission.

"They'll be engaged in an ideological fight: tax increase or no tax increase," Gingrich said.

The former House Speaker insisted that Congress pass hundreds of small laws over the next few months instead, each with their own plan to cut spending or bring in revenue through various energy and government reform programs.

Gingrich argued his plan would "dwarf" the goals set by the deficit reduction plan set by Congress, and claimed that about $3 trillion in cuts–also scored over 10 years–could be found by Christmas.

While the Republican candidate didn't answer questions about the presidential campaign, Gingrich said he represents those he's been listening to across the country who feel "very offended by the 'super committee' and very threatened by it and distrust it deeply."
Newt Gingrich, Press Release - Gingrich: 'Super Committee' Must Go Online by Gerhard Peters and John T. Woolley, The American Presidency Project https://www.presidency.ucsb.edu/node/297625