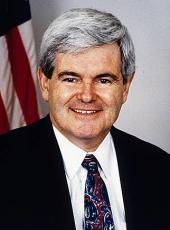 Press Release - Gingrich Speaks at NH Town Hall Following Obama Speech
Originally posted by the Associated Press
Newt watched the President's speech at a student pub in New Hampshire on Thursday, then held a Town Hall where he listened to audience members' reactions and made his own remarks on the speech.
HENNIKER, N.H. (AP) — President Barack Obama's $450 billion jobs plan provided Republican presidential hopeful Newt Gingrich with fresh fodder for criticism just in time for his town hall meeting at New England College Thursday night.

The former House speaker watched Obama's televised address to Congress at a student pub, then immediately held a town hall meeting in the next room to discuss the plan. He spent about half an hour letting audience members react — mostly negatively — to the president's plan before offering his own view: that Obama's plan was more about government control than creating jobs.

The vast majority of what Obama proposed involves government intervention rather than empowering the private sector, Gingrich said.

"My guess is 90 percent of his activities go to government," Gingrich said. "An American jobs act should relate to jobs. It's not the American Government Rebuilding Act."

Seeking to boost the still sagging economy as well as his own standing, Obama proposed cutting the Social Security payroll tax, repeated his calls for a one-year extension of unemployment insurance and proposed a $4,000 tax credit for businesses that hire workers who have been out of work for more than six months.

But one business owner in Gingrich's audience said the latter idea wouldn't help him.

"If I was making money, I'd hire a couple people and I wouldn't need the tax credit incentive," the man said. "The tax credit doesn't do me any good against my business losses."

Gingrich also took issue with Obama's characterization of Abraham Lincoln as a "Republican president who mobilized government to build the transcontinental railroad ... and set up the first land grant colleges."

"The transcontinental railroad was not built by the federal department of railroads," but through huge subsidies to the private sector, Gingrich said. And land grant colleges weren't run by the federal education department, but by states given the right to sell the land on which to build them.

Gingrich's own jobs plan includes eliminating the estate and capital gains taxes, lowering the corporate tax rate, and repealing financial industry regulations he says are crippling small businesses.

He also suggested opening parts of Alaska to oil drilling and other energy production, and using the revenue to rebuild the nation's infrastructure without raising taxes. Combining the two would make it more likely that Congress could pull together a large enough coalition to pass such a proposal, he said.
Newt Gingrich, Press Release - Gingrich Speaks at NH Town Hall Following Obama Speech Online by Gerhard Peters and John T. Woolley, The American Presidency Project https://www.presidency.ucsb.edu/node/297594