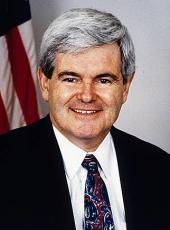 Press Release - Gingrich Says 2012 Election Biggest Since 1860
Newt made his first campaign appearance as an official candidate for president in Macon, Georgia. The Telegraph has more:
MACON, Ga. -- Republican Newt Gingrich told a Georgia audience on Friday evening that the 2012 presidential election is the most consequential since the 1860 race that elected Abraham Lincoln to the White House and was soon followed by the Civil War.

Addressing the Georgia Republican Party's convention, Gingrich said the nation is at a crossroads and that the re-election of Democratic President Barack Obama would lead to four more years of "radical left-wing values" that would drive the nation to ruin.

Gingrich also blasted Obama as "the most successful food stamp president in modern American history."
The former House speaker gave his speech at the end of a day of campaigning that took him from a gathering of economic conservatives in Washington to an old-style restaurant in Georgia and then the evening gathering of the party faithful.

Gingrich received a warm welcome at the GOP dinner. He represented Georgia in Congress for two decades and is stressing his ties anew after having lived in northern Virginia for more than a decade.

"I am glad to be home," Gingrich said Friday evening.

On economic issues, the 67-year-old Gingrich said his program would lead to more paychecks.

He outlined a jobs plan that would eliminate the estate and capital gains taxes and lower the corporate tax rate, which he said would infuse the nation's sputtering economy with new investment.
Read more: http://www.macon.com/2011/05/13/1559835/ap-interview-gingrich-says-hes.html#storylink=misearch#ixzz1MRIrye3u
Newt Gingrich, Press Release - Gingrich Says 2012 Election Biggest Since 1860 Online by Gerhard Peters and John T. Woolley, The American Presidency Project https://www.presidency.ucsb.edu/node/297577