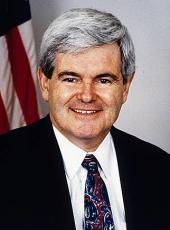 Press Release - Gingrich Recruits Inclusion Director, Bolsters Finance and Communications Team
Atlanta, GA – Newt Gingrich has made several staff hires and recruited Latino activist Sylvia Garcia to lead his campaign's efforts to include Hispanic voters as part of the broad coalition of conservatives the campaign is building.
"Our country has a choice of two futures," said Gingrich. "On one hand you can have bigger government, smaller citizens, fewer choices and less of your own money. On the other we have the Republican Party that puts freedom and family first, empowers entrepreneurs, rewards those who work hard and will defend our country. This is the future I believe we can have and I think Americans of all backgrounds should be part of it."
"The Newt 2012 model is inclusion not outreach," added Garcia. "We want to engage Hispanic Americans in creating solutions to our country's most pressing challenges. We are not asking people to be for a candidate, we are asking to be with a movement. That will be Newt 2012's commitment."
Sylvia Garcia has worked in journalism, marketing, public relations, and business development for the American Hispanic market for over twelve years. She graduated from the University of Miami in Broadcast Journalism and Spanish Language. She has worked in Latin America, Spain, and the U.S. In 2005, she joined Gingrich Communications as Hispanic Inclusion Director. Together with the Speaker, she is a founder of The Americano, the first bilingual Conservative site for Hispanics.
Crissy Mas is the campaign's HIspanic volunteer coordinator. She has worked in the political arena since her graduation from Catholic University in 2006. As an undergraduate she was involved with the College Republicans and served several consecutive internships both in Miami and Washington D.C. with Gingrich Communications. Following graduation she worked for a non-profit organization and full time for a lobbyist firm in Downtown D.C. while earning her Master's degree in Congressional and Presidential Studies at Catholic University. She traveled extensively in Europe and speaks both English and Spanish. She has a strong Cuban American heritage, her father was born in Havana, Cuba. She has assisted with outreach for The Americano and event planning.
In addition, Newt 2012 is expanding its staff roster adding fundraising, field and communication staffers.
Newt 2012 welcomes Andrew Bell, a Fayetteville, North Carolina native, former White House Intern, recent NC State graduate, and research assistant for State Senator Richard Stevens. Andrew will serve the campaign in several capacities, assisting in field, policy and political work.
Orange County California native Michelle Selesky will wear two hats. Deputy Press Secretary liaising with talk radio and television as well as leading inclusion efforts in Asian American communities. Michelle is an alumna of UCLA where she was Team Captain of the women's gymnastics team and is semi-fluent in Vietnamese.
Amy Pass will lead fundraising operations. Pass most recently worked for American Solutions where she was responsible for major donor fundraising. Pass assumes the responsibilities of Christine Hall who is headed to work for an issue advocacy organization. Amy graduated from the University of Georgia in 2002 with a degree in Business Administration.
Whitney Smith joins the fundraising operation as deputy finance coordinator. Whitney is an Illinois native who graduated from Western Illinois University. Whitney began as an intern for Gingrich Communications and most recently worked in fundraising and events at American Solutions.
Cynthia Meyer is the campaign's video editor. Meyer is a proud Texan who is finishing her undergraduate studies at The George Washington University. She has previously interned for International Republican Institute, the Republican Governors Association and Governor Rick Perry's successful reelection effort.
Cartersville, GA native Jacob Hawkins is overseeing volunteer operations out of the campaign's Atlanta headquarters. Most recently, Hawkins was an aide for Georgia State Senators Jack Murphy and Butch Miler. In addition, Hawkins has volunteered for several state house races.
Contact: R.C. Hammond

rch@newt.org
Newt Gingrich, Press Release - Gingrich Recruits Inclusion Director, Bolsters Finance and Communications Team Online by Gerhard Peters and John T. Woolley, The American Presidency Project https://www.presidency.ucsb.edu/node/297574