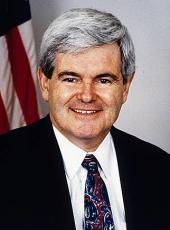 Press Release - Gingrich: Hard Work Will Rebuild Economy
Originally posted at concord-nh.patch.com
By Tony Schinella
Newt spoke to a group of citizens at the Presidential Oaks senior living facility in Concord, emphasizing the need for the people of America to do their part in returning the United States to its former glory.
Newt Gingrich said he doesn't have faith that government alone can rebuild the economy, rather, he believes that it is up to the people to make the nation great again.

"I'm not asking people to be for me," said Gingrich this morning. "I'm asking people to be with me."

Gingrich stressed this need for citizens to do their part to an audience at the Presidential Oaks senior living facility this morning in Concord.

During a question and answer session, many of the questions centered on the economy and what the presidential hopeful is going to do to bring jobs back to America.

In response to concerns of big companies investing outside of the country in order to save money, Gingrich said that the job of our government is to make it more desirable to invest in its own country.

He said that we "drive people crazy" with red tape and regulations, such as those presented by the Dodd–Frank Wall Street Reform and Consumer Protection Act. The amount of limits presented in this act gives companies much less incentive to invest within our borders.

The corporate tax rate should also be set to 12.5 percent, according to Gingrich.

"(Companies have) trillions of dollars overseas that they will not bring home to this country because of tax rate," he said.

Gingrich blamed "liberal elites" in colleges, news media and government for downplaying the need for manufacturing and other less-intellectual jobs.

He said there is a "snob effect" from these individuals towards lower-level jobs, but Gingrich said that any job that gets a person working hard throughout the week and provides income is good.

"We have a lot of people who are very spoiled," said Gingrich.

Higher education also fell into his crosshairs, as he complained that students are paying far too much for education. Instead, he strongly supports schools that offer students a chance to work in order to pay expenses, such as the College of the Ozarks in Missouri.

"Every state in the country should have at least one work-based college," he told the audience. "If you are willing to work, you can get a college education."

When asked about issues with welfare, Gingrich said support should be given based on circumstance because there are people with severe disabilities that we need to take care of.

He said he wants to take our disability program and turn it into a capabilities program, along with re-establishing work ethic among the youth in the country.

"Don't tell me what you can't do, tell me what you can do," said Gingrich.

He added that unemployment compensation should be attached to a training program that would work to transition individuals into a job.

"Don't give people money for doing nothing, which I think is destructive in the long run," said Gingrich.

On homelessness, he said he was not in favor of redistributing wealth for those in need, but for redistributing opportunity.

The economy was a hot topic on the minds of voters in attendance, but questions also touched upon veterans and healthcare.

One woman in attendance said that when the Super Congress was put together, one of the first things that came out in the news was cutting benefits or programs that benefit military families.

Gingrich replied that he grew up as an army brat and strongly believes our nation has an obligation to take care of those who protect us.

According to Gingrich, he wants to reform the system and have it re-center on the relationship of the patient and doctor, not bureaucrats in Washington and insurance companies.

When asked about the failure of government leaders to solve these problems, Gingrich replied that these issues have always been present in our nation's leadership. He also took the opportunity to jab at the news media.

"The Congress has always been a mess and has occasions of brilliance, and the news media has always been annoying and has occasional moments of importance," he said.

While he spoke on the faults of government, Gingrich said that he was not anti-government. He said the constitution was created to make a lean, effective government

"Government should only do the things we cannot do ourselves," he said.
Newt Gingrich, Press Release - Gingrich: Hard Work Will Rebuild Economy Online by Gerhard Peters and John T. Woolley, The American Presidency Project https://www.presidency.ucsb.edu/node/298740