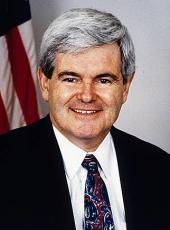 Press Release - Gingrich: Campaign 'On Track'
Originally posted at tiftongazette.com
By Frank Sayles Jr.
At the Georgia GOP Fish Fry in Perry, Newt discussed the state of the campaign, his ideas for job creation, and his plan moving forward.
PERRY — Former U.S. House Speaker Newt Gingrich admits he made some mistakes when launching his presidential campaign but says it is now on track and he expects to do well in upcoming primaries.

"I had a bad start," the GOP candidate told The Tifton Gazette on Saturday at the state Republican Fish Fry at the Georgia National Fairgrounds.

"I feel very good about how things are going now," Gingrich said. "I expect to be in the top three in Iowa; I will be in the top three in New Hampshire; and I will win South Carolina and Florida."

Shortly after beginning his campaign for the GOP nomination, Gingrich saw several top staffers resign, followed by his top fundraisers. The former Georgia congressman has consistently ranked low in party polls, but he said Saturday that will change by the time folks vote.

"Washington is broken," Gingrich told the Gazette. He said job generation should be a top priority.

"If we had a president who is a leader, what would they (Congress) be doing right now? We need tax cuts; we need a zero capital gains tax," Gingrich said. "We need to create American jobs."

He said Washington is broken because of a lack of leadership and because of the national media's focus on trivial matters, such as "what a congressman does on Twitter," the social networking web site.

Gingrich criticized a recent candidate debate when a CNN reporter asked "this or that" questions, such as "Coke or Pepsi?" and "Thin crust or deep dish?" (The latter was asked of former Godfather's Pizza CEO Herman Cain of Georgia.)

"A presidential candidate doesn't have to be as dumb as a reporter," Gingrich said.

Later, Gingrich addressed the GOP crowd at the fish fry, saying that "Politics is not about a 30-second attack ad; politics is not about clever strategies; it is not about raising the money."

Instead, he said, "Politics is about the truth and about the future of our country."

Gingrich told the Georgia party faithful that it was a "hard decision" for him to run for president.

"But I thought it was necessary," he said. "We need a candidate who can tell the truth better than Democrats can lie."

Gingrich said he looks forward to facing President Obama in a debate and telling him: "You are the most effective Food Stamp president in American history."

He said Obama "has killed more jobs and put more people on Food Stamps than any president."

The candidate also touted his work in Congress while Ronald Reagan was president.

"Under our policies, we had 4.3 percent unemployment vs. Obama's 9.2 percent unemployment," he said. "We balanced the budget for four straight years while cutting taxes, not raising them."

Gingrich said leadership needs to be shown today, not delayed until after the next election.

"This country is in trouble," he said. "The time to change is now. We can't afford to wait."

Gingrich was the only presidential candidate in attendance at the GOP's annual Fish Fry, begun by former Gov. Sonny Perdue. After the speeches, the state Republican Party had its first statewide straw poll of candidates.

Georgia resident Herman Cain won the poll with 232 votes. U.S. Rep. Ron Paul was only three votes behind at 229. Texas Gov. Rick Perry was third with 180 votes. Gingrich was fourth with 162.

Other candidates and their votes were: Mitt Romney, 51; Rep. Michele Bachmann, 29; Rick Santorum, 4; Jon Huntsman, 3; and Thaddeus McCotter with 1 vote.

Among those attending Saturday's gathering were former Gov. Perdue; U.S. Sens. Saxby Chambliss and Johnny Isakson; Lt. Gov. Casey Cagle; state Rep. Tony McBrayer, R-Tifton; and Tifton Mayor Jamie Cater.
Newt Gingrich, Press Release - Gingrich: Campaign 'On Track' Online by Gerhard Peters and John T. Woolley, The American Presidency Project https://www.presidency.ucsb.edu/node/298722