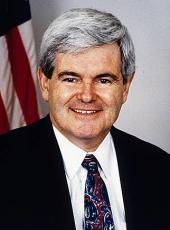 Press Release - Gingrich Announces National Security Advisory Team
Atlanta, GA - Newt Gingrich announced members of his National Security Advisory Team today.
"I have depended on the counsel of this world-class group of experts throughout my career, and I am honored that they have decided to be with me as we work to ensure that the United States remains the safest, strongest, and freest country in the world," Gingrich said.
"I look forward to drawing on their vast knowledge and experience as we assert our vision of an exceptional America that, contrary to what Barack Obama may believe, will continue to be both the world's leading power and most assiduous defender of freedom for generations to come."
"In order to lead, one must have a comprehensive knowledge of world issues and dynamics that can only come from decades of study and experience," said Herman Pirchner, the team's director. "I have worked with Speaker Gingrich for many years, and in these dangerous times, he is by far the best candidate to lead when American lives and American interests are at stake."
"Newt Gingrich's personal commitment to the security of the United States, and its ideals and values has been one of the most striking and enduring attributes of his political career," said former Under Secretary of State Bill Schneider. "His grasp of the compelling nature of 21st century security threats to the US and its interests enables him to translate his commitment to US security into concrete and effective policies."
"Gingrich has been one of the most outspoken national advocates for strong US-Israel relations for over three decades," said Dr. David Wurmser, who will be advising Gingrich on Middle East issues. "He is firm in his conviction that Americans and Israelis have a number of shared goals and interests, and we must work together to protect Israel from a number of existential threats."
"As an Army brat, turned educator, turned national leader, the Speaker has always been ahead of the curve thinking about a grand strategy to protect America and advance her interests," said Dr. Kiron Skinner, who will be advising Gingrich on strategic issues. "He has trained a generation of military leaders as the longest serving teacher at the Joint War Fighting Course. President after president has sought his counsel on security issues. He will bring an unparalleled working knowledge of military, diplomatic, intelligence and economic issues to the White House."
Several team members will be accompanying Gingrich to tonight's national security debate in Washington, D.C., hosted by the Heritage Foundation, the American Enterprise Institute, and CNN.
Detailed biographies of the team members are below. Affiliations are for identification only.
Norman A. Bailey is an Adjunct Professor of Economic Statecraft at the Institute of World Politics in Washington and President of the Institute for Global Economic Growth. Dr. Bailey served as a professor at the City University of New York until 1981, when President Reagan appointed him Special Assistant to the President for National Security Affairs and Senior Director of International Economic Affairs on the staff of the National Security Council. Since 1984 Dr. Bailey has been an international economic consultant to governments, government agencies, corporations, banks, investment banking firms, trade associations and trading companies on five continents.
Ilan Berman is Vice President of the American Foreign Policy Council in Washington, DC. An expert on regional security in the Middle East, Central Asia, and the Russian Federation, he has consulted for both the U.S. Central Intelligence Agency and the U.S. Department of Defense. Mr. Berman is a member of the Associated Faculty at Missouri State University's Department of Defense and Strategic Studies. He also serves as a member of the reconstituted Committee on the Present Danger, a columnist for Forbes.com, and as Editor of The Journal of International Security Affairs.
Ken de Graffenreid is currently Professor of Intelligence Studies at The Institute of World Politics. Following service in the US Navy as a naval aviator and intelligence officer, he was appointed to President Reagan's National Security Council in 1981. Mr. deGraffenreid was Senior Director of Intelligence Programs at the National Security Council from 1981 to 1987, when he was charged with evaluating and coordinating a broad range of intelligence, counterintelligence, security countermeasures, space policy, arms control, strategic nuclear and command, control and communications issues. He served at the Pentagon in the second Bush Administration as Deputy Under-Secretary of Defense for Policy, then as Deputy National Counterintelligence Executive at the Central Intelligence Agency.
John Fonte is a Senior Fellow and Director of the Center for American Common Culture at Hudson Institute. The Center provides analysis and policy advice on civic education, citizenship, and issues concerning the interplay of national identity, the assimilation of immigrants, global organizations, and the future of American liberal democracy. His book, Sovereignty or Submission: Will Americans Rule Themselves or be Ruled by Others? was published by Encounter Books in August 2011. Previously, Fonte was a visiting scholar at the American Enterprise Institute where he directed the Committee to Review National Standards under the chairmanship of Lynne V. Cheney. He also served as a senior researcher at the U.S. Department of Education and a program administrator at the National Endowment for the Humanities (NEH).
Robert McFarlane has had a distinguished record of public service including ten years in ?the White House and State Department serving variously as Military Advisor to Henry ?Kissinger and Brent Scowcroft, Counselor to the Secretary of State and rising ultimately ?to serve President Reagan as his National Security Advisor. He is perhaps best remembered as the architect of the comprehensive set of U.S. policies?– including most notably the Strategic Defense Initiative – which so?stressed the Soviet economy as to bring it down and in the process accelerated the?collapse of Marxism in the former Soviet Union. He is a graduate of the US Naval?Academy and served in the US Marine Corps (where he commanded an artillery battery in?the first landing of American forces in Vietnam).
Herman Pirchner is the founding President of the American Foreign Policy Council (AFPC), a non-profit public policy organization headquartered in Washington, DC since 1982. Under his leadership, AFPC has hosted the Washington visits of hundreds of foreign officials, ranging from the Prime Minister of Malta to the Prime Minister of Russia; conducted hundreds of briefings for members of Congress and their staffs; and organized dozens of fact-finding missions abroad for current and former senior American officials. Prior to founding AFPC, Pirchner worked for current Iowa Senator Charles Grassley and former Iowa Senator Roger Jepsen.
Tina Ramirez is the Director of International and Government Relations for the Becket Fund, a non-profit, public-interest legal and educational institute that protects the free expression of all faiths. Previously, she served in a number of positions in Congress as a senior foreign policy advisor and expert on international religious freedom, and helped establish and direct the Congressional International Religious Freedom Caucus. Ms. Ramirez and the Caucus played a critical role in raising the profile of numerous religious freedom issues in Congress and with both the Bush and Obama Administrations, leading to the release of many individuals imprisoned for their faith and ensuring relief for many suffering under religious persecution.
Bill Schneider is President of International Planning Services, Inc. and an Adjunct Fellow of the Hudson Institute. Dr. Schneider served as Under Secretary of State for Security Assistance, Science, and Technology (1982-86) under President Reagan, following service as Associate Director for National Security and International Affairs at the Office of Management and Budget (1981-82). He served as Chairman of the General Advisory Committee on Arms Control and Disarmament from 1987-93, then as Chairman of the Defense Science Board (DSB) from 2001-9, and currently serves as a Senior Fellow of the DSB. Secretary of Defense Robert Gates awarded Schneider the DoD's Medal for Distinguished Public Service in November 2009.
Kiron Skinner is the W. Glenn Campbell Research Fellow at the Hoover Institution, where she is a member of the Shultz-Stephenson Task Force on Energy Policy. She also is an associate professor of international relations and politics at Carnegie Mellon University and director of the university's Center for International Relations and Politics. Her government service includes membership on the US Defense Department's Defense Policy Board as an adviser on the Iraq and Afghanistan wars (2001–7); the Chief of Naval Operations' (CNO) Executive Panel (2004–present); the National Academies Committee on Behavioral and Social Science Research to Improve Intelligence Analysis for National Security (2009–11); and the National Security Education Board (2004–11).
Abraham Wagner teaches in the areas of national security and intelligence at Columbia University's School of International and Public Affairs, and is also a Senior Research Fellow at the Arnold A. Saltzman Institute of War and Peace Studies. Outside of SIPA he is also a Senior Fellow at the Center for Advanced Studies on Terrorism and serves as a consultant to several U.S. Government agencies. Prior to joining the Columbia faculty Prof. Wagner served in the U.S. Government, holding positions at the National Security Council, the Department of Defense and the Intelligence Community.
R. James Woolsey is Chairman of Woolsey Partners LLC, a Venture Partner with Lux Capital Management, and Chair of the Board of the Foundation for Defense of Democracies. Mr. Woolsey previously served in the U.S. Government on five different occasions, where he held Presidential appointments in two Republican and two Democratic administrations, most recently (1993-95) as Director of Central Intelligence. During his 12 years of government service, in addition to heading the CIA and the Intelligence Community, Mr. Woolsey was: Ambassador to the Negotiation on Conventional Armed Forces in Europe (CFE), Vienna, 1989–1991; Under Secretary of the Navy, 1977–1979; and General Counsel to the U.S. Senate Committee on Armed Services, 1970–1973. He was also appointed by the President to serve on a part-time basis in Geneva, Switzerland, 1983–1986, as Delegate at Large to the U.S.–Soviet Strategic Arms Reduction Talks (START) and Nuclear and Space Arms Talks (NST).
David Wurmser is the executive and founding member of the Delphi Global Analysis Group, LLC, where he provides analysis on the geopolitics and economics of Israel and the Middle East. Dr. Wurmser was the senior advisor to Under Secretary of State John Bolton at the State Department until 2003, then rose to senior advisor to Vice President Richard Cheney on Middle East, proliferation and strategic affairs. Before entering government, Dr. Wurmser founded the Middle East studies program at the American Enterprise Institute in 1996. While at AEI, Dr. Wurmser published Tyranny's Ally: America's Failure to Defeat Saddam Hussein and over 35 articles in major periodicals.
Stephen Yates has been the president of DC International?Advisory, a consultancy, since 2006. Before opening DC International Advisory, Mr. Yates served in the White House as Deputy Assistant to the Vice President for National Security Affairs from 2001 through 2005. During his tenure in government, he was deeply involved in the development and execution of U.S. foreign policy priorities in Asia, Latin America and Africa. Mr. Yates previously served as Senior Policy Analyst at the Heritage Foundation from 1996 to 2001, and from 1991 to 1996 he served as an international affairs analyst at the U.S. Department of Defense.
Newt Gingrich, Press Release - Gingrich Announces National Security Advisory Team Online by Gerhard Peters and John T. Woolley, The American Presidency Project https://www.presidency.ucsb.edu/node/298701