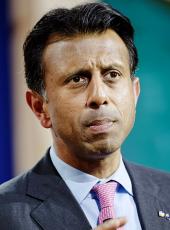 Press Release - Fox Business Debate Recap: "Again, Bobby Jindal Won the First Debate"
BATON ROUGE – Following Governor Jindal's strong performance during last night's debate, here is what they are saying are about his strategy and its impact:
Erick Erickson: Again, Bobby Jindal Won the First Debate
This guy really deserves to be on the main stage. He had another commanding performance while Santorum embarrassed himself. Christie, welcomed to the kid's table, had to deal with a Jindal who is clearly not a fan of Christie's and Jindal got the better of him.
Politico: Jindal goes after Christie as a 'big-government Republican'
Bobby Jindal went on the attack against Chris Christie, going after the New Jersey governor's record on economic issues, dinging him as a "big-government Republican."

Records matter, Jindal said, as does the way governors govern. The Louisiana governor pointed to credit upgrades and budget decreases in Louisiana and credit downgrades and budget increases in New Jersey.
The Huffington Post: Bobby Jindal Launches Attacks On Chris Christie And Mike Huckabee Over Spending
Jindal later sprung a trap for Christie, arguing he had failed to sufficiently trim his state's budget.
"Let's not just beat Hillary, let's elect a conservative to the White House, not just any Republican," Jindal said, arguing that the GOP shouldn't be "a second liberal party."
Washington Examiner: Bobby Jindal hijacks debate with fight over direction of GOP
More than a few observers felt Jindal had pushed too hard. But one experienced GOP hand, Alex Castellanos, saw a deliberate strategy in Jindal's approach. "Turns out all @BobbyJindal needed to get big was a big opponent," Castellanos, who is not affiliated with any campaign, said. "Thank you @GovChristie. Best day of Jindal campaign yet."
The Hill: Jindal attacks Huckabee over economy
Louisiana Gov. Bobby Jindal ripped his Republican presidential rivals at Tuesday night's GOP undercard debate, saying that no one but him is committed to cutting government spending.
Tweets
Erick Erickson @EWErickson

Again, Bobby Jindal Won the First Debate http://www.erickontheradio.com/2015/11/again-bobby-jindal-won-the-first-...
Alex Castellanos @alexcast

two winners of undercard: @BobbyJindal spoke to IA and won. @GovChristie spoke to NH and won. good evening for both men. #GOPDebate
Jim Malone @JMaloneVOA

As the undercard winds up, conservatives will probably crown Jindal the winner. Christie also strong #GOPDebate #voaalert
David M. Drucker @DavidMDrucker

Give this to @BobbyJindal - #GOPDebate would be a snoozer w/out him.
Alex Castellanos @alexcast

turns out all @BobbyJindal needed to get big was a big opponent. thank you @GovChristie. best day of jindal campaign yet. #GOPDebate
David Catanese @davecatanese

This Jindal-Christie spat is actually substantive and worthy of having.
Ryan Struyk @ryanstruyk

Jindal isn't afraid to take the gloves off here. Attacking Christie and Huckabee on their records, has very specific facts down.
Alexis Levinson @alexis_levinson

Jindal is on tonight.
Chuck Bausman @ChuckBausman

Jindal taking Christie to school.
Andrew Kaczynski @BuzzFeedAndrew

Bobby Jindal came seriously prepared tonight.
Jonah Goldberg @JonahNRO

Jindal came to play
T.J. Holmes @tjholmes

Jindal is energetic and in attack mode. Criticizing fellow governors and senators for not cutting budgets. #GOPDebate
GlennHall ?@GlennHall

There's not enough difference between the parties - that's the problem, says @BobbyJindal to big applause #GOPDebate
The FAMiLY LEADER @theFAMiLYLEADER

@BobbyJindal #GOPDebate on govt. spending, debt 'We keep stealing from our children. That is immoral, that is wrong'
Will Carr @WillCarrFNC

Jindal: reason GOP keeps losing nationally is we're trying to be a cheaper version of the Democrats #GOPDebate @FoxNews @FoxBusiness
FiveThirtyEight ?@FiveThirtyEight

Bobby Jindal's claim that he's the only governor running who cut spending is true: http://53eig.ht/1NIKHps #GOPDebate
Bobby Jindal, Press Release - Fox Business Debate Recap: "Again, Bobby Jindal Won the First Debate" Online by Gerhard Peters and John T. Woolley, The American Presidency Project https://www.presidency.ucsb.edu/node/311632