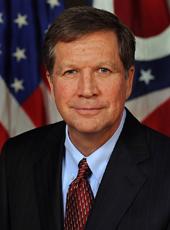 Press Release - Fortune Magazine—Kasich "Practicing, Not Just Preaching, the Basic Tenets of Fiscal Conservatism"
Fortune Magazine
February 29, 2016
"[John Kasich] is by far the most level-headed of the bunch and is the only candidate with any relevant executive experience. He is also the only candidate left with a record of balancing budgets and practicing, not just preaching, the basic tenets of fiscal conservativism by turning deficits into surpluses while keeping taxes low. He struck deals with Democrats to balance the budget and fought corrupt Republicans addicted to pork—and he did it with class.
[...]
Why would Republican primary voters reject a true fiscal conservative and vote for a bunch of inexperienced troublemakers, none of whom have presented a viable plan to kick the debt, grow the economy or fix healthcare? The leading candidates have instead promised a chicken in every pot, a blank check for the military, a wall on the nation's southern border, mass deportations of millions of (employed) illegal aliens, all while reversing everything done by the "wicked" President Obama.
[...]
[Kasich] made a lot of tough decisions as head of the House Budget committee in the 1990s. This is the guy who found the $10,000 hammers and $4,000 toilet seats in the defense budget and called the DOD out on it. At the same time, he worked with Democrats to reform entitlement spending. It is tough to see how any of his fellow candidates will be able to work with their fellow Republicans, let alone Democrats, to get anything done.
To read the full article, click here.
John Kasich, Press Release - Fortune Magazine—Kasich "Practicing, Not Just Preaching, the Basic Tenets of Fiscal Conservatism" Online by Gerhard Peters and John T. Woolley, The American Presidency Project https://www.presidency.ucsb.edu/node/313246