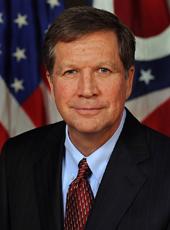 Press Release - Former U.S. Rep. Steve LaTourette Endorses John Kasich for President
Today former U.S. Rep. Steve LaTourette (R-OH) released the following statement in support of Gov. John Kasich:
"I have always believed that our Party and Country should be governed by someone who has actually governed something. The Presidency isn't a place for on the job training.
My friend John Kasich is the only person in the race for the nomination of our Party with the requisite experience to be President. He is the only candidate who understands what it is like to actually govern – not just talk about it.
Mr. Trump is a successful businessman – but running a company simply isn't the same thing as being the leader of the free world. Senators Rubio and Cruz are fine first-term Senators – but we have seen how unprepared a one-term Senator is for the job of President during the last seven years.
I served with John Kasich in the House and watched as he became the architect of the first balanced federal budget since World War II. Not only was the budget balanced, the country was actually able to pay down some of the national debt – rather than simply passing it on to future generations. He accomplished that goal, which was and is a priority for Republicans, while a Democrat – Bill Clinton – was in the White House. He did it by recognizing that negotiation is not surrender. He showed that you can compromise without compromising core values.
I have also watched his six years as Governor of my home state of Ohio and seen the job creation and economic recovery that have taken place on his watch. Just like he did when he balanced the budget, Governor Kasich has put the best interest of the citizens he serves above petty partisanship.
That's the kind of leader John Kasich is and that is exactly the kind of leader we need in the White House.
It is for those reasons that I am proud to announce that John Kasich has my full endorsement for President of the United States. I proudly look forward to his nomination in my hometown of Cleveland this summer."
John Kasich, Press Release - Former U.S. Rep. Steve LaTourette Endorses John Kasich for President Online by Gerhard Peters and John T. Woolley, The American Presidency Project https://www.presidency.ucsb.edu/node/313242