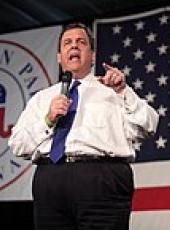 Press Release - Former State Senator Bob Letourneau of Derry endorses Chris Christie for President
For Immediate Release:
Friday, November 20, 2015
MORRISTOWN, NJ - As Governor Chris Christie heads back to New Hampshire for his 34th and 35th town hall meetings, conservative leader and respected Derry icon Bob Letourneau has announced his endorsement of Chris Christie for President. Letourneau, a former state Senator and former House Assistant Majority Leader, will join Governor Christie at his town hall meeting in Windham on Saturday to personally offer his endorsement.
"Governor Christie has demonstrated that he is the best prepared to provide the strong leadership we need in our next commander-in-chief," said Letourneau. "The times demand a tough and tested leader. As a former U.S. Attorney, Chris Christie worked with the Department of Homeland Security to protect our country from attacks and to prosecute terrorists. We need a President with Governor Christie's clear, decisive and experienced voice to lead the world in this fight against evil."
Letourneau also praised Governor Christie for following the New Hampshire tradition of holding town hall meetings where he outlines his vision for the country's future, answers every question, and works to earn every vote.
"Having seen Governor Christie in town hall meetings, I am impressed by his conservative record of accomplishment in New Jersey and his detailed proposals to rebuild our military strength, grow our economy, and help foster a better environment for businesses to create jobs. Our current president has grown the size of government and eroded our personal liberties- Governor Christie believes in a limited federal government and will protect our liberties."
Letourneau represented Derry, Hampstead, and Windham in the state Senate from 2005 to 2010, where he served as Chairman of the Senate Transportation and Interstate Cooperation Committee. Prior to his election to the Senate, Letourneau served for four terms in the New Hampshire House of Representatives, where he was elected Assistant Majority Leader. Letourneau also served on the state Motorcycle Rider Education Advisory Board and the Governor's Motorcycle Safety Task Force. He is the former Chairman of the New Hampshire Civil War Memorial Commission.
Letourneau will join Christie at Jonathon's Lounge at Park Place Lanes in Windham on Saturday, November 21st at 2:30pm for a community town hall meeting.
Letourneau joins one hundred New Hampshire leaders from across the state in supporting Chris Christie for President including:
Conservative Activist & Radio Host Jeff Chidester, Former Chief of Staff to Sen. Judd Gregg Joel Maiola, Merrimack County Attorney Scott Murray, State Representative & Sullivan County GOP Vice Chairman Jim Grenier, Lempster, Town Council Chairman Jim Scanlon, Bedford, Town Council Vice Chair Kelleigh Murphy, former State Representative & Manchester Alderman, former press secretary to US Senator Bob Smith, Bedford, GOP Activist and Army Veteran Kent Swanson, Nashua, GOP Activist Donna Swanson, Nashua, Air Force Veteran John Gaites, Thornton, GOP Activist Maureen Gaites, Thornton, Community Leader Tammy Fortier, Woodsville, US Army Veteran Stephen A. Mack, Bedford, Former Republican Gubernatorial Candidate and former CEO of BAE Systems Walt Havenstein, Former Representative & Former New Hampshire Jaycees President Ken Hawkins, U.S. Air Force Veteran Gary Schmitz, GOP Activist Barbara Schmitz, Secretary of the Merrimack Republican Town Committee and Former Romney Town Chair David Rutzke, GOP Activist Steve Miller, GOP Activist Thomas Mullins, Community Activist Kate Fallas, Community Activists Tom & Laura Walstad, St. Anselm College Republican Madison Mangels, Rockingham County Treasurer Edward "Sandy" Buck, State Representative Russell Dumais, State Representative Herb Richardson, Former State Representative and Vietnam War Veteran (USMC) John Cebrowski, Selectman Mary Grenier, Community leader Kendra Tilton, GOP Activist Carroll Ray, GOP Activist Rita Richardson, GOP Activist Noel Lyons-Baker, GOP Activists Bob & Marie Raas, Small Business Owner Nancy Cowan, Hillsborough County Commissioner Toni Pappas, GOP Activist Steven Steiner, North Conway, Navy Veteran Craig Fillmann, Glen, State Rep. Candidate and former member of "Students for Walker," Alexandria Knox, Manchester, GOP Activist & College Republican Parker Leonard, Auburn, College Republicans Secretary at Saint Anselm Cameron Lapine, Manchester, Steve Woods, Brentwood,Claire Stevens, Hudson, Kirsten Yellen, Manchester, John Gallagher, Manchester, Bill and Carol Gaffney, Nashua, Maria Sampson, Londonderry, William Stearns, Jr., Bedford, Doug Meteisis, Plaistow, Heidi Sturrock, Amherst David Sturrock, Amherst Paige Youschak, Laconia, Matt Withrow, Salem, U.S. Marine Corps, Lance Corporal Tom Eifler, Atkinson, Kevin Harrington Student Ambassador & College Republican Rachel Morel, Saint Anselm College, Manchester, Town Councilor Joe Green, Londonderry, Trustee of the Trust Funds Colin Costine, Chester, GOP Activist Simone Maloney, Manchester, U.S. Navy Veteran Jim Powers, Merrimack, U.S. Army Veteran Jane Powers, Merrimack, GOP Activist Stacy King, Manchester, GOP Activist Mike Mackley, Manchester, Small Business Owner Dale Dormody, Gilford, GOP Activist Noreen Johnson, Swanzey, GOP Activist Catherine Seltsam, Merrimack, Small Business Owner Paul Botta, New Boston, College Republican Vice Chair Brandon Pratt, St. Anselm College, Assistant Majority Leader Representative Steve Schmidt, former Mayor of Somersworth Matt Spencer, former New Hampshire Republican State Committee Chairman Wayne MacDonald, former Executive Councilor and Nashua Mayor Bernie Streeter, former US Attorney and Executive Councilor Tom Colantuono, Merrimack County Sheriff Scott Hilliard, Concord City Mayor Pro Tem and former Executive Councilor Dan St. Hilaire, Rockingham County Commissioner Tom Tombarello, Rockingham County Commissioner Kevin Coyle, business leader Dick Anagnost, business leader Bill Greiner, State Representative David Danielson, State Representative Susan Emerson, State Representative Bill Ohm, State Representative Don LeBrun, State Representative Betsy McKinney, State Representative Jack Balcom, State Representative Jim Devine, former Employment Security Commissioner Richard Brothers, former New Hampshire Republican Party Treasurer Robert Scott, former Grafton County Republican Committee Chairman Paul Simard, former State Representative Elaine Swinford, former State Representative Dennis Reed, former State Representative Karen Hutchinson, former Meredith Selectman and Conservative activist Hillary Seeger, former Contoocook Valley Republican Vice Chairman and Conservative activist Donna Marzullo, Nashua Republican Party activists Paul and Barbara Clark, Concord Republican Party activist Valery Mitchell, Concord Republican Party Treasurer Jim McConaha, Salem Republican Party Secretary Lisa Withrow.
Chris Christie, Press Release - Former State Senator Bob Letourneau of Derry endorses Chris Christie for President Online by Gerhard Peters and John T. Woolley, The American Presidency Project https://www.presidency.ucsb.edu/node/311531