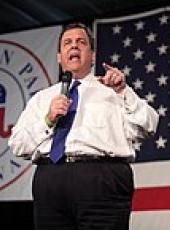 Press Release - Former Republican Nominee For Governor Walt Havenstein Endorses Chris Christie For President
For Immediate Release:

Thursday, November 5, 2015
MORRISTOWN, NJ - Today, at an employee town hall at BAE Systems, former New Hampshire Republican nominee for governor and former CEO of BAE Systems, Walt Havenstein endorsed Governor Christie for President.
"America cannot lead without a president who is smart, tough, and tested for the most difficult job in the world. Chris Christie is the only candidate who embodies these attributes and I am proud to announce my endorsement of him today for President of the United States," said Walt Havenstein. "In this crowded field, Governor Christie stands out as the strong leader who can restore America's confidence at home and our respect around the world."
"While campaigning for Walt in New Hampshire, I had the opportunity to get to know him as a close friend and trusted advisor. He is a true conservative well known for sharing his views on how to revitalize the economy, grow jobs and control spending and I am honored to have his counsel and his support," said Governor Christie.
________________________________________
Havenstein endorsing Christie at BAE

Dan Tuohy

New Hampshire Union Leader
Former BAE Systems president Walt Havenstein, the 2014 Republican nominee for governor, is endorsing GOP presidential hopeful Chris Christie.
Havenstein will be a special guest of the New Jersey governor's today at a 2:30 p.m. employee town hall at BAE Systems, the Union Leader has learned.
Christie has visited BAE, New Hampshire's largest manufacturing employer, before. He toured the manufacturing facilities at 65 Spit Brook Road in Nashua in 2014 and, in his former capacity as chairman of the Republican Governors Association, campaigned for Havenstein during his gubernatorial bid.
...
Read the rest of the article here.
________________________________________
Walt Havenstein to endorse Chris Christie for president

Joh DiStaso

WMUR
Walt Havenstein, last year's Republican nominee for governor, will endorse Chris Christie for president on Thursday afternoon.
WMUR.com has learned that Havenstein will appear with Christie at BAE Systems, Inc., in Nashua to give his endorsement to the New Jersey governor. Havenstein is the former chief executive officer of the company.
...
Louisiana Gov. Bobby Jindal, who is also now a presidential candidate, also campaigned with Havenstein and later hired Havenstein campaign spokesman Henry Goodwin as the spokesman for his presidential campaign.
Havenstein is currently a member of the board of Americans for Peace, Prosperity and Security, a nonprofit issues group advocating a strong national defense. He lost to Gov. Maggie Hassan by a 52 percent to 47 percent margin in 2014 and told WMUR.com in April that he will not run for governor next year.
Christie and Havenstein will hold a town hall meeting with BAE Systems employees in Nashua at 2:30 p.m. Christie will then participate in a drug addiction, recovery and law enforcement roundtable at American Ambulance Service in Somersworth at 6 p.m.
...
Chris Christie, Press Release - Former Republican Nominee For Governor Walt Havenstein Endorses Chris Christie For President Online by Gerhard Peters and John T. Woolley, The American Presidency Project https://www.presidency.ucsb.edu/node/311528