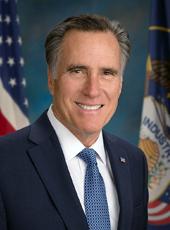 Press Release - Former New Hampshire State Senator Chuck Morse Endorses Governor Mitt Romney
FOR IMMEDIATE RELEASE

CONTACT: New Hampshire Press Shop (603) 836-0141
Boston, MA – Governor Mitt Romney today announced the endorsement of former New Hampshire State Senator Chuck Morse. Morse will assist Governor Romney in spreading his message for a stronger America throughout the Granite State.
"As a businessman and former elected representative, Chuck Morse has been an important leader in New Hampshire. Throughout his service in the State Legislature, Morse demonstrated strong conservative leadership and stood firm for fiscal responsibility. He will be a vital part of my campaign to bring conservative change to Washington," said Governor Romney.
With today's announcement, Chuck Morse said, "We need to stop the out of control pork barrel spending in Washington. Our leaders need to exercise fiscal responsibility. Our next president must be a person who has executive experience in reducing waste, who can make tough decisions, who can balance the books, and who doesn't mind using his veto pen. As Governor of Massachusetts, Mitt Romney eliminated a nearly $3 billion deficit– without raising taxes. Mitt Romney is the right candidate to lead this nation, because he has the experience, the character, and the commitment to change Washington and make it work for the American people."
Background On Former State Senator Chuck Morse:
Chuck Morse Served In The New Hampshire State Legislature From 1998 To 2006. Morse grew up in Salem and attended Plymouth State University where he earned a degree in business management. He has been the president and owner of Freshwater Farms in Atkinson for the past 20 years. Morse served as a Town Selectman from 1996 to 1998 and as a State Representative for Salem and Windham from 1998 to 2002. He served in the State Senate from 2002 to 2006. He has been a Town Moderator since 2000 and was the Republican nominee for Executive Council – District 3 in 2006. Morse and his wife Susan live in Salem with their daughter Emma.
Mitt Romney, Press Release - Former New Hampshire State Senator Chuck Morse Endorses Governor Mitt Romney Online by Gerhard Peters and John T. Woolley, The American Presidency Project https://www.presidency.ucsb.edu/node/296234