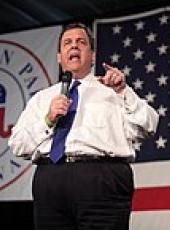 Press Release - Former Nebraska United States Senator David Karnes Endorses Chris Christie for President
For Immediate Release:

Tuesday, January 19, 2016
MORRISTOWN, NJ - Today, former Nebraska United States Senator David Karnes endorsed Chris Christie for president citing his high character, integrity and experience for why the governor will be ready to lead on day one.
"From my service as a part of the Reagan White House team and later as a United States Senator from Nebraska working closely with, and admiring the leadership of, President Reagan, our next president needs to be a person of the highest character and integrity who will bring to the presidency, on day 1, the type of wisdom, judgment, leadership and respect that only comes from real experience. In our ever dangerous and complex world 'learning on the job' to govern, manage and lead is unacceptable. There is only one person among the candidates for president that would bring to the office these qualities and that person is Governor Chris Christie," said Senator Karnes. "Governor Christie is the strong, experienced leader our country needs. He has worked with an overwhelmingly Democratic legislature in New Jersey to balance the budget, cut taxes, reform pensions, and reduce the size and cost of government. His background as a former U.S. Attorney and as a governor of a large state gives him the critical national security and executive experience our country needs right now. Governor Christie is ready to be president on day one. I am supporting Governor Christie for president and urge everyone to join me."
"I am incredibly honored to have Senator Karnes on our team," said Governor Christie. "As we get closer to the first votes and our support continues to grow across the early primary states, leaders like Senator Karnes are crucial to helping spread our message to voters throughout the country."
Senator Karnes is a former United States Senator from Nebraska and is currently an Omaha based attorney focused on banking, general corporate law, governmental relations, federal legislative and regulatory law and international law. At the federal level, his governmental practice involves health care, defense, banking, agriculture, appropriations and a wide range of other domestic Congressional matters.
During his Senate tenure, he served as a member of the Senate Banking, Housing and Urban Affairs Committee, the Agriculture, Nutrition and Forestry Committee and the Small Business Committee.
He also served as a member of the domestic policy staff of the White House, senior official of the United States Department of Housing and Urban Development and counsel to the Federal Home Loan Bank Board - Washington, D.C. He served as a member of the U.S. Advisory Committee on Trade Policy and Negotiations. He also served as Chairman and member of the Board of Directors of the $30 billion Federal Home Loan Bank of Topeka and served as a White House Fellow.
Chris Christie, Press Release - Former Nebraska United States Senator David Karnes Endorses Chris Christie for President Online by Gerhard Peters and John T. Woolley, The American Presidency Project https://www.presidency.ucsb.edu/node/311524